This information is Non-Telus related.
1. From the patient profile Insurance tab the Insurance information must be entered before invoicing and creating forms.

2. The appointment booking window will show the default insurance settings from the patient profile, Insurance tab.
Insurance record created in the patient's profile
The insurance field will read "All Active Insurers" which allows Juvonno to bill a primary and secondary if the patient insurance tab is set up with a 1st and 2nd insurance company. Or you can manually set it to Direct to the patient for billing.
You are also able to manually select the insurance company.
| | |
| --- | --- |
| Note | You are only able to submit primary telus insurers through Juvonno. |
The appointment booking popup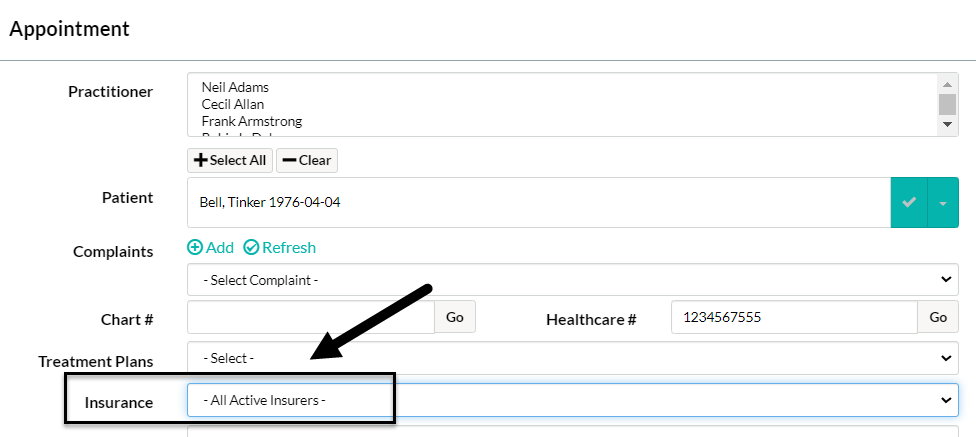 Complete the booking process and Save.
3. Click on the appointment block and select Complete and Invoice.
The next popup will show you the Forms field with a check box to create the forms when you select Checkout.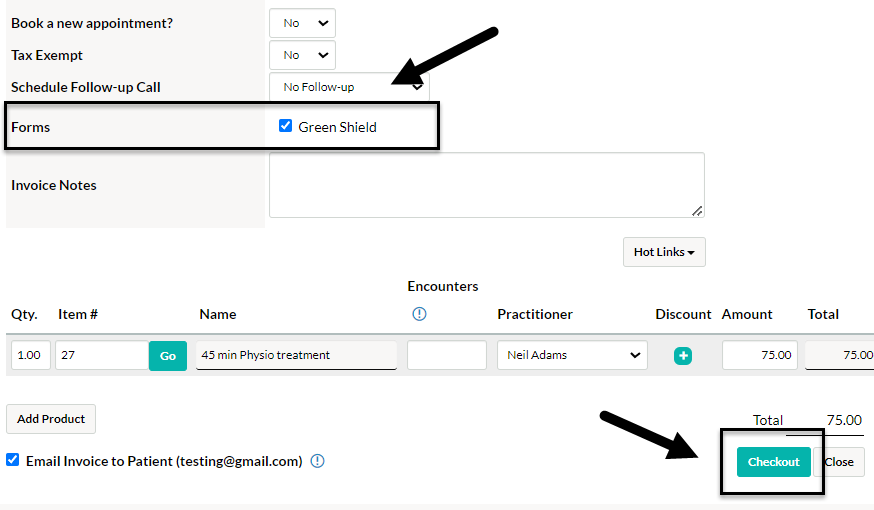 The next popup will be the insurance form you can print or download.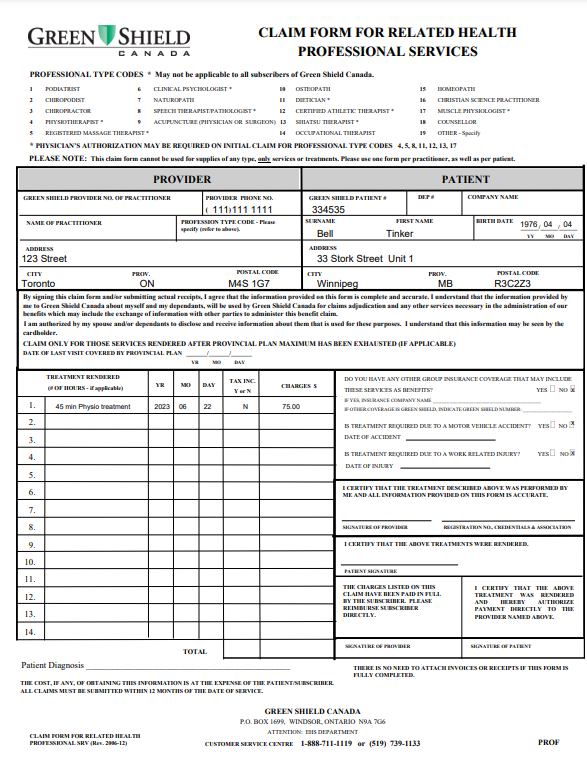 Click here to learn more about the checkout menu options




Secondary Practitioner

Optional: Assign a secondary practitioner to this invoice.

Third-Party

Select the insurance that will be paying for this invoice.

Forms

Optional: If the insurance has an assigned form in settings, you are able to auto-populate a claim form with the patient and invoice details filled in. The form will also save in the patient's profile under the Forms tab, where you can recreate claim forms at any time.

Book a new appointment?

Optional: Set this to Yes if you would like to schedule another appointment after checkout is complete.

Schedule
Follow-up Call

Optional: Select from the menu which staff member should be assigned the follow-up. Proceed to choose out of the custom follow-up options previously created.

Invoice Notes

Enter in any notes specific to this invoice if necessary.

Add Product

Before Checkout, you are still able to add in products or services to the invoice if applicable.

Email Invoice
to Patient

Use this if your patient would prefer the invoice sent to their email entered in their patient profile.
When ready to proceed, select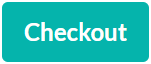 .


| | |
| --- | --- |
| | Note: You are able to edit the total cost of an item if your system settings have been set with these permissions. |