** Attn: Please contact your Juvonno Representative to start the planning and scheduling for your TD Merchant Account Setup **



TD Desk 5000
The terminal is used to initiate transactions for customers using credit or debit cards,
(Visa®, Mastercard®, Discover®, American Express®, Interac®, UnionPay®, etc.)

To learn how to use other cards, please see our online documentation at
www.tdmerchantsolutions.com/posresources



---
Interested in purchasing a unit?
If you haven't already ordered a terminal, visit TD's website here to learn more.



---


Juvonno & TD Desk Integration | Create a Payment Gateway


Once logged into Juvonno, navigate to Settings > Payment Gateways


Select + New Payment Gateway


Set the Processor Type field to Hardware Integrated


Follow the link to identify your IP Address*


Enter your IP Address in the Proxy Integration field and select Register Proxy Account


You will be contacted once registration is completed and can then proceed with Terminal setup.
---

Juvonno & TD Desk Integration | Add a Terminal


Within the TD Payment Gateway, select + New Terminal


On your TD Desk unit, navigate to Admin > Terminal Info
Enter the device's Terminal ID into Juvonno's Terminal fields,
for both the Name and Terminal ID.


On your TD Desk unit, navigate to
Admin > Misc.Options > Semi-Integrated > Communication Type > Enter


Enter the device's

IP Address into Juvonno's Device's Host field.
Then enter

38503

into the Port field in both Juvonno and the terminal.


Set the Terminal's Status field to Active and select Save


A Setup Credentials link will display at the end of the Terminal's row.
Select it to view your API Key and Setup token. These will be used for final steps.


Repeat steps 1-4 for any additional terminals you'd like to add
---
Juvonno & TD Desk Integration | Windows Application


Download the TD Desk Integration software here


Run it on the Windows computer that will be used with the terminal

You may first be prompted to validate the software:

In this case, select More info and Run Anyway to proceed


Accept the terms and select Install


Once installed, select to open the application


From the Payment Gateway settings, select Setup Credentials:




Enter those details to the Windows application and select Validate Credentials: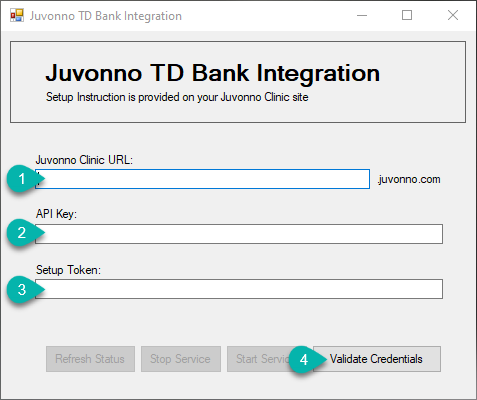 ---
You're now ready to start accepting transactions with your terminal!


---
Have more questions about the Terminal?
---

Additional Notes | TD Desk 5000 Reports: