NOTE: The "Credit" payment type option must be enabled on your system under Settings, Payment Types.
When a patient has a credit on their account you are able to use it to pay an invoice.
The credit data is stored in the Patient Profile, History, Credits section.
From the Schedule, select Complete and Invoice.
Select Checkout.
You will get the Accounting/Receive Payment popup that indicates this Patient ha an available credit.
In this example the patient owes $126.00.

This is what the Payment receive payment popup will display before you select the Paid By field to Credit.
Now select the Paid By field as "Credit". This is how the page will be displayed.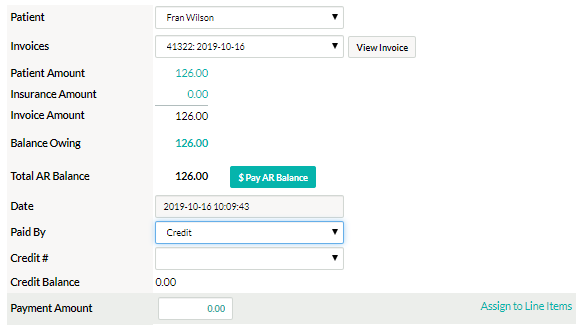 In the "Credit # field, select the Credit # you want to use by selecting the down arrow. The total of the credit will auto populate.
The $10 will go against the total of this invoice.

At the bottom of the Receive Payment popup select "New Payment".
Once you select "$Apply Payment" you will get a second popup to enter the second method of payment the patient is using to pay the balance.

On the next popup select the Invoice.

The balance owing will appear.
You can now select the payment method the patient is using to pay the balance.