Create and update a Practitioner's schedule.

Overview
| | |
| --- | --- |
|   | Note: Make sure you have first created at least one Schedule Type to book appointments with a practitioner. |
Where is it?
Navigate to
Settings. Under Staff, choose Practitioner.
Click 
 next to the user and select the Availability tab.
| | |
| --- | --- |
|   | SHORTCUT: The Schedule's practitioner name menu      |


Standard Availability

This reflects a practitioner's recurring schedule on a weekly basis based on Effective (start) dates and End dates. Start and end dates must be entered and in chronological order to avoid issues with certain reports.






Selecting  

 provides options to Edit, Clone or Delete a created schedule.


Here's an Availability of Monday - Friday 9AM - 6PM with a break from 12PM - 1PM.

To create a new availability click on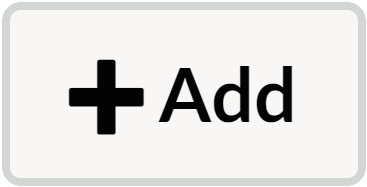 Set a recurring daily/weekly schedule Effective (start) and End date.



Be sure to first choose a Schedule Type.
If necessary, use the edit link next to the heading to add types to the available list.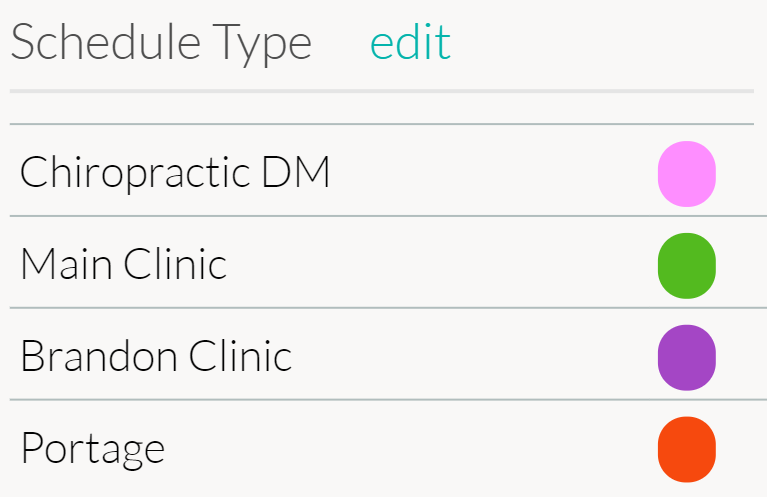 After selecting a schedule type, create availability by selecting hours on the grid.
| | |
| --- | --- |
|   | TIP: To select more than a single time slot at once, select the start time, hold down the shift key and click the end time. All the slots within the range will be selected. Select the X to clear the full day of availability. |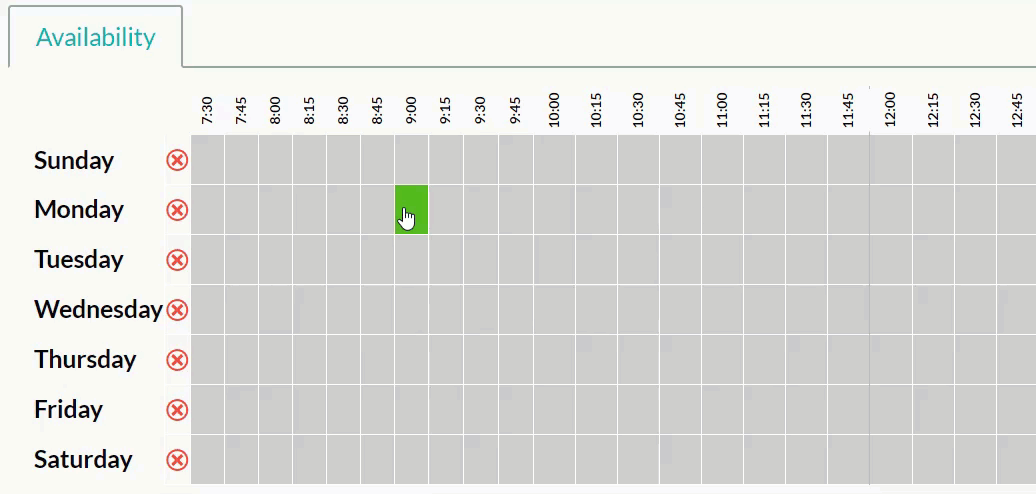 Creating an availability with a selected Schedule Type will default appointments booked at this time to that schedule type. The other schedule types assigned to the practitioner will also be available to select from during the booking if necessary.




Schedule Types can be used to designate specific times to provide a service. This is used to simply "suggest" to staff which types of appointments are preferred to be booked during that time frame.  It does not prevent booking any type of appointment within this time frame.  
When booking an appointment on the schedule, the schedule type you select within that time from with automatically default in the appointment booking popup.  
Setting the schedule up this way can be used in conjunction with the showing the suggested schedule on the schedule.  This is optional.

Here's an example of an availability set with four schedule types: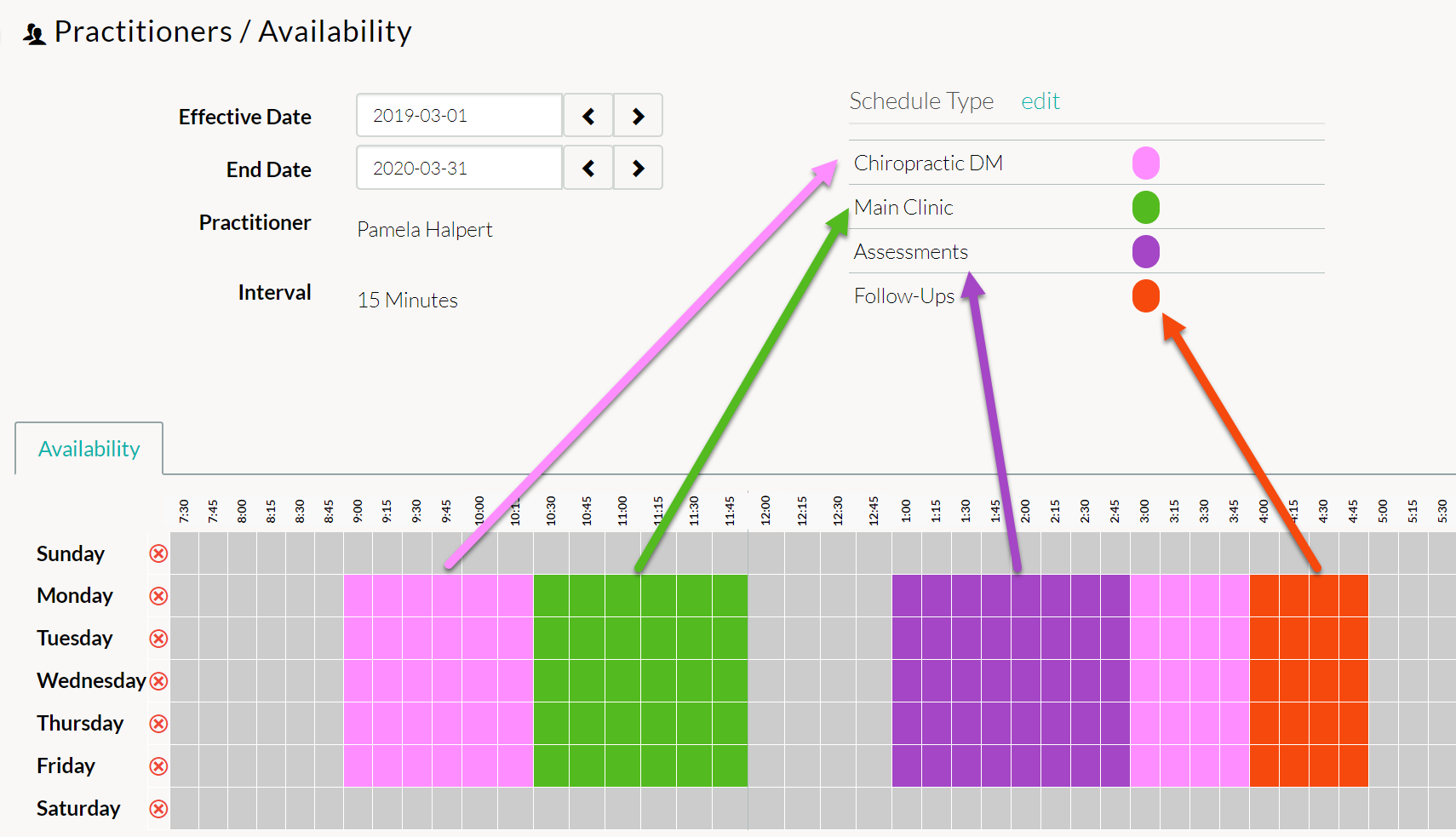 Selecting multiple schedule types will provide an indicator on the Schedule itself, labelled with the Schedule Type's code and colour. This option will be be used when you have more than one location to indicate which clinic the practitioner is located at specific time and day.
When an appointment is booked using a Schedule Type, it will reflect the colour and any conflict settings assigned to that type.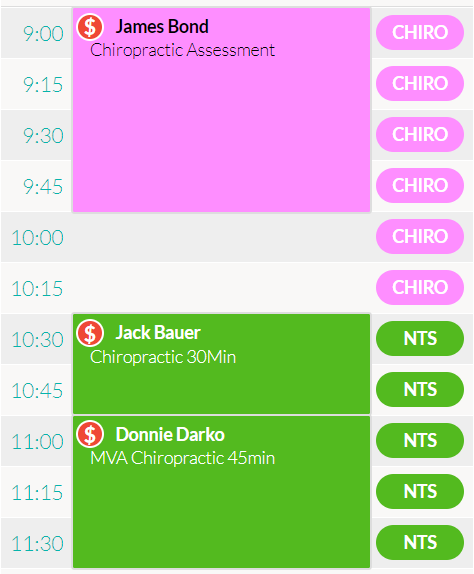 Daily Availability Overrides
NOTES:
- If you create an override for a date in the past it will not save in this list but it will apply to the schedule.  You will not be able to undo this action after saving.
- When the date of an Override has past it will automatically remove from the list.

Overrides provide the ability to replace any single day of the standard availability.
Any overrides will be labelled by the date it is affecting.







Selecting  

 provides options to Edit or Delete a created schedule.

To create a daily override, select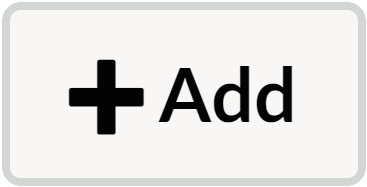 found on the top-right.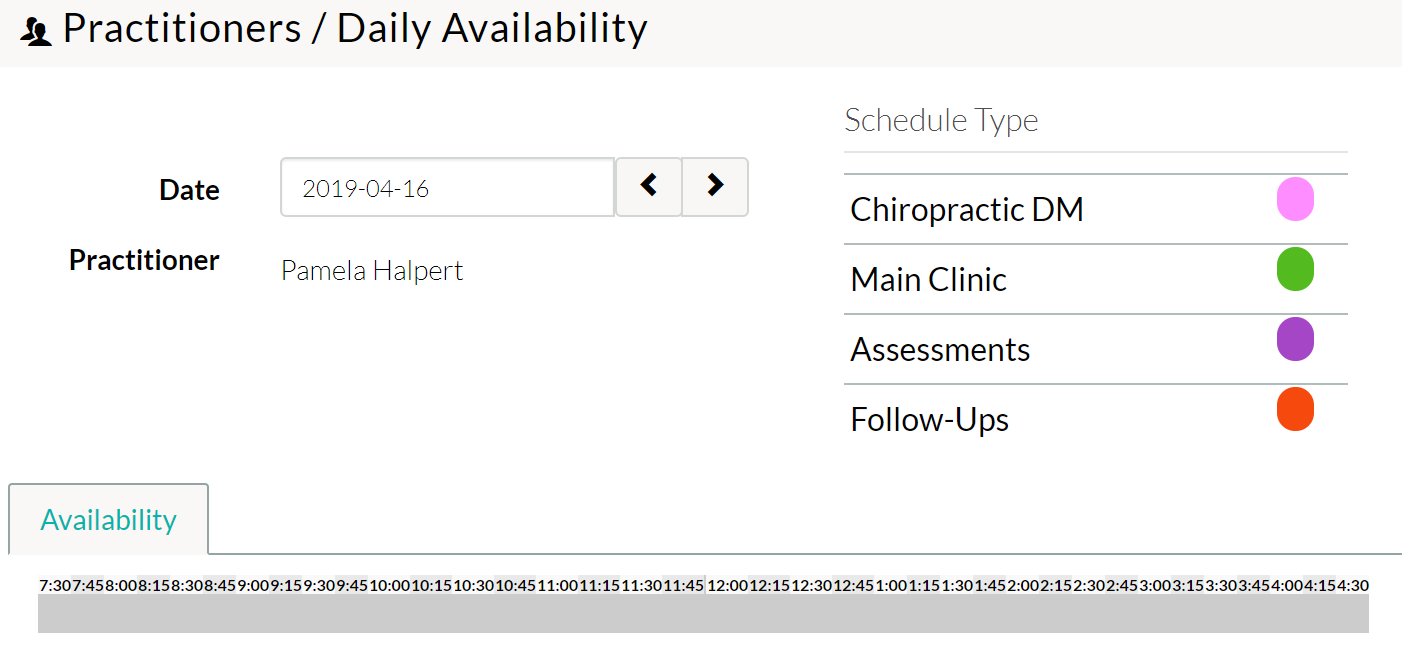 Enter the Date that will be overridden, select a Schedule Type and click on the hours you would like to have available on the schedule. As always, don't forget to Save.


| | |
| --- | --- |
|   | TIP: To quickly remove a full day from the schedule, select any Schedule Type and Save. This will override the date with no availability, thus visually removing the practitioner from the schedule on that day. |
| | |
| --- | --- |
|   | Note: Daily Availability Overrides will not display in the Practitioner's availability tab if they are for dates that have passed. This is a preventative measure to restrict removing or adjusting overrides for past dates. Any overrides that have been set for past dates are not able to be removed. |


Standard Availability (Multi-Location)
Schedule Types
Set up separate Schedule Types for each location the Practitioner will be in.

i.e. Location A: Pamela H. Dunder Mifflin 
i.e. Location B: Pamela H. Main Clinic




Practitioner Profile
Navigate to Settings > Practitioners > 

 menu and select Schedule Types.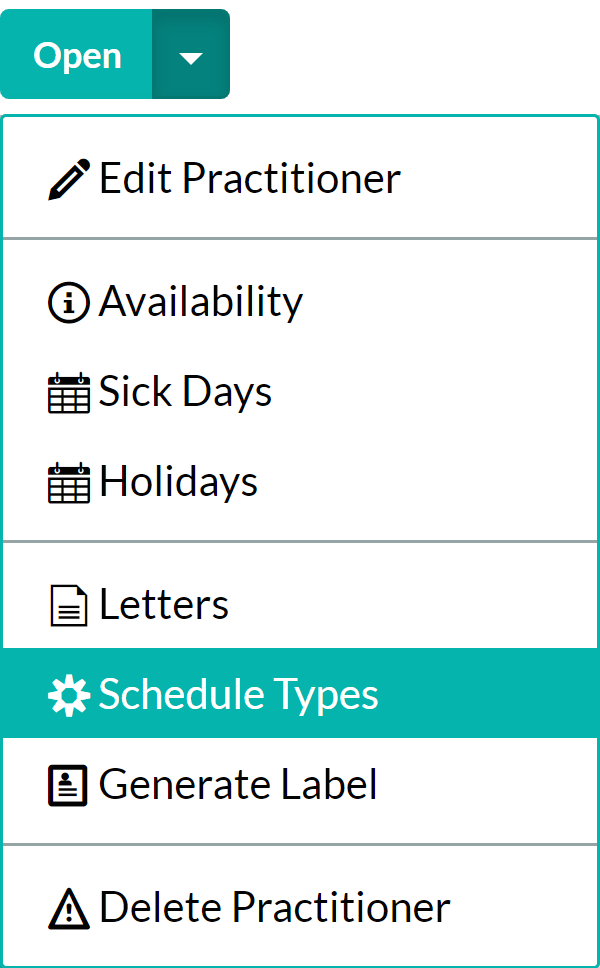 Add >> both location's Schedule Types and Save.




| | |
| --- | --- |
|   | TIP: Label these Schedule Types using the Practitioner name to avoid any confusion when selecting Availability or tying Schedule Types to Products & Services that will be booked in the Portal. |







Availability
Edit an existing schedule or create a new Standard Availability schedule.
Select one of the location's Schedule Type and click the time to apply that availability, then perform the same action with the other location's Schedule Type.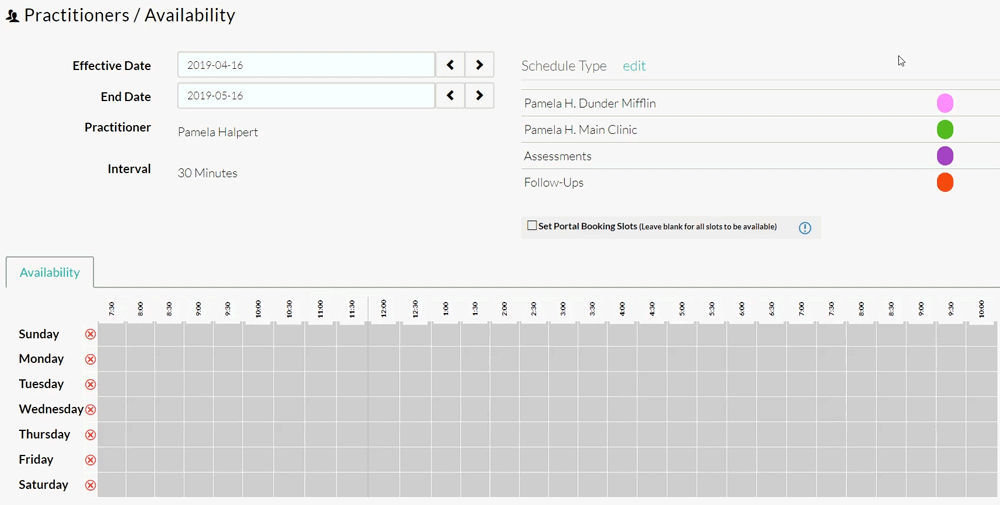 Selecting a time that is already used will remove that availability.


 

FLUCTUATING SCHEDULES TIP:

If you have a practitioner that has a schedule that fluctuates frequently it would be best to set up a Standard Availability showing what they work the most then set up Daily Availability Overrides for the days the schedule is different or you use the Away option to block the calendar.