Utilize Juvonno's Patient Insights tool to build highly specific patient lists based on demographics, appointment history, invoice & insurance information, and even custom fields. Once your list is built, you can craft a JComm email or text message campaign targeting this group of patients!
---
Popular types of Patient Insights reports to inspire your next campaign:
Lapsed Patient report

Filters:

Last Appointment (Date Range), Future Appointment booked (Y/N)

Subscription Status report

Filter:

Subscription status (Active, Canceled, Delinquent)

Custom Field Report

Filter: S

elect the custom field you wish to filter by

Patient Profile Created & No Appointment Booked Report

Filters: Date Patient Created, Appointments Had,

and

Future Appointment Booked

Product/Service Invoiced & Paid Report

Filters:

Invoice Date, Has Receivables (Y/N), Invoiced Product #
Step-by-Step Instructions
In this example, you will learn how to build an email campaign targeting patients that have created an account on the patient portal but have yet to book an appointment. The email will give patients the link to book their first appointment.
Step 1
Start by going to the JuvonnoComm icon on the left-hand navigation bar and click New Campaign.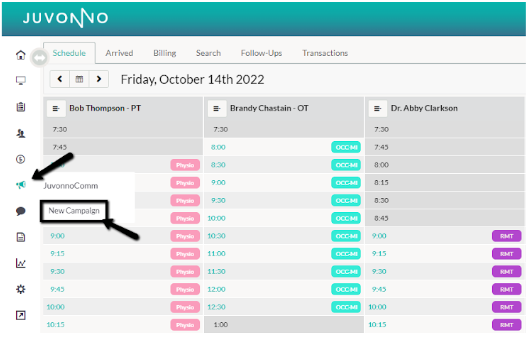 Step 2
Select either Email or Text campaign, scroll down, and select Custom Template.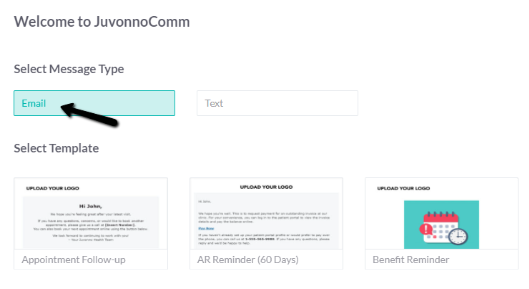 Step 3
Under the Audience tab, select Create a new Patient List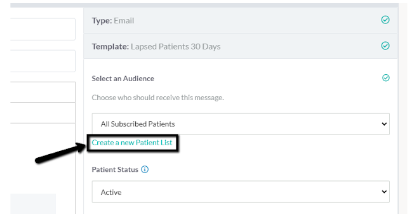 Step 4
Add custom filters from the list of Available Filters to match your target audience.

For this example, you'll need to add the Date Patient Created, Appointments Had and Future Appointment Booked filters to determine which patients have created an account but haven't booked their first appointment.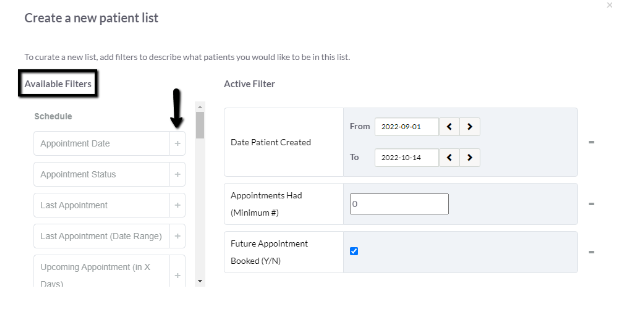 Step 5
Select a trigger for your campaign. The Custom Date (Blast) trigger will be used in this example which sends the messages out on the specified date.
| | |
| --- | --- |
| | Note: If using a template, certain triggers may be restricted. |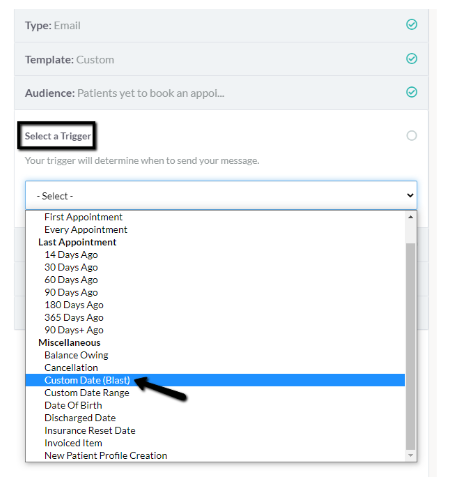 Step 6
For this campaign, under Add a Call-to-Action, check off the Portal Booking Link box to encourage the patient to book their appointment.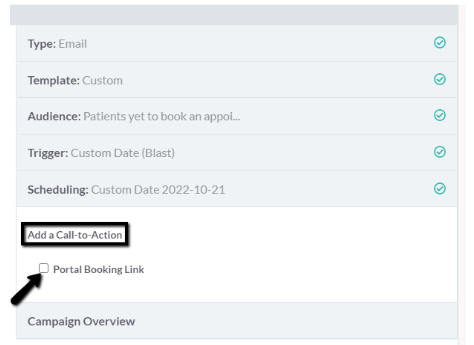 Step 7
Review your campaign settings and design, then click Send a Sample Message to see how the campaign will appear to your patients.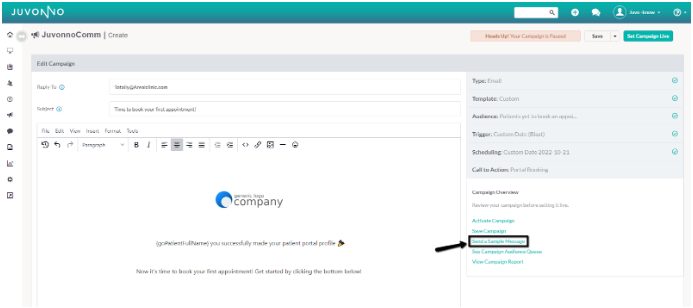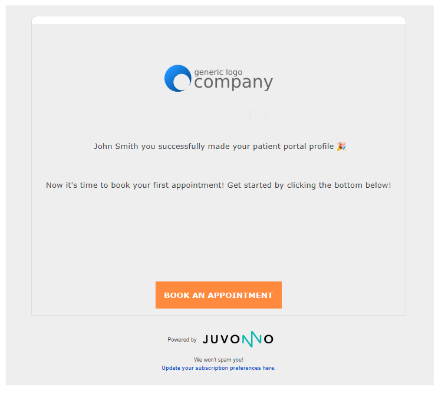 Step 8
Once your campaign is finalized and you're happy with its appearance, it's time to send it out. Do this by clicking either Set Campaign Live in the top right-hand side or Activate Campaign in the Campaign Overview tab.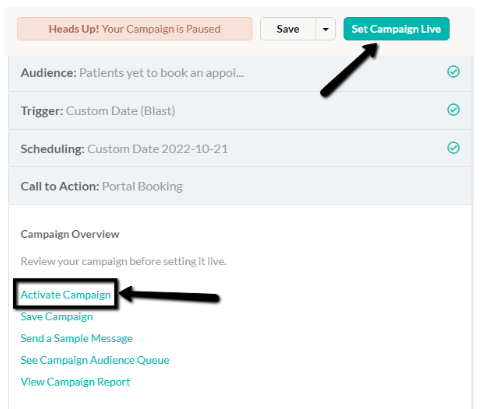 Now your email campaign is ready for launch.

Further reading: See How to Access Your JComm Campaign Results to learn about assessing your campaign's performance