What is Doxy?
Doxy.me is designed for healthcare:
By incorporating standard clinical workflows such as patient check-in and waiting room into the design of doxy.me, healthcare providers and their patients experience a familiar and natural visit.


Doxy.me is simple:
All the patient needs to start a telemedicine visit is a web link to the doctor's doxy.me room using a standard computer or mobile device. No special hardware or software are necessary.


Doxy.me is free:
By making doxy.me free, we support our mission to make telemedicine available to all. Now healthcare providers can utilize telemedicine at no additional cost to their practice. We also offer a licensed version of doxy.me for additional features or custom branding.
Doxy.me is secure:
Secure data transmission and patient privacy is a top priority. We utilize state-of-the-art security and encryption protocols, making doxy.me compliant with HIPAA and HITECH requirements.
Overview
Patient Experience
Patients can navigate and understand simple interface right away.


Once a patient starts a treatment session they are able to communicate in real-time with their Practitioner via video and text. No need to download software or create an account. Just use a browser on a computer or device with a camera and microphone.


Patients are emailed the practitioner's unique Room URL link where one-click takes them to join the telehealth meeting.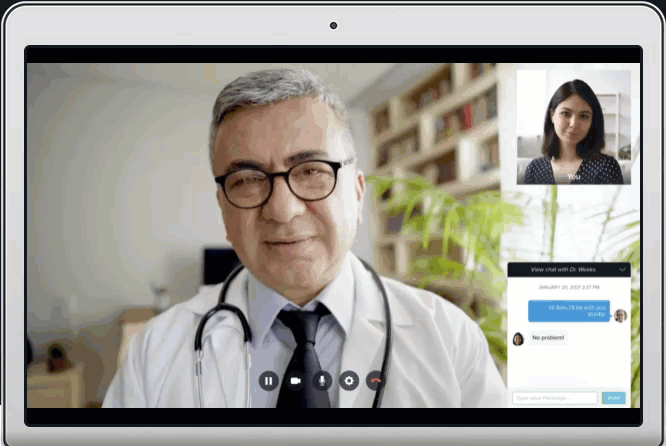 Practitioner Experience
Doxy takes privacy and security very seriously. They implement state of the art security and encryption protocols to assure that data integrity and privacy is maintained. As a result, doxy.me complies with

HIPAA, GDPR, PHIPA/PIPEDA, & HITECH requirements.


With live chat you can simply and easily communicate with a patient by text, even while you are on a call with a different patient. Live chat is also a great compliment to audio and video.


You're a busy provider and sometimes run late. The patient queue allows you to see that your next patient has checked in, and even allows you to jump between patients quickly and easily.
Basic Details
Connect Juvonno + Doxy
1) Navigate to Settings > General > Integrations App > Doxy and Enable the module
2) Enter the unique Doxy room URL per practitioner in their profile tab > Doxy Room field
3) Schedule Appointments (see below) and Join the Doxy Session to begin!
Step 1: Appointments
When scheduling an appointment, the window will include a Visit Type menu
Select Telehealth - Doxy as the Visit Type.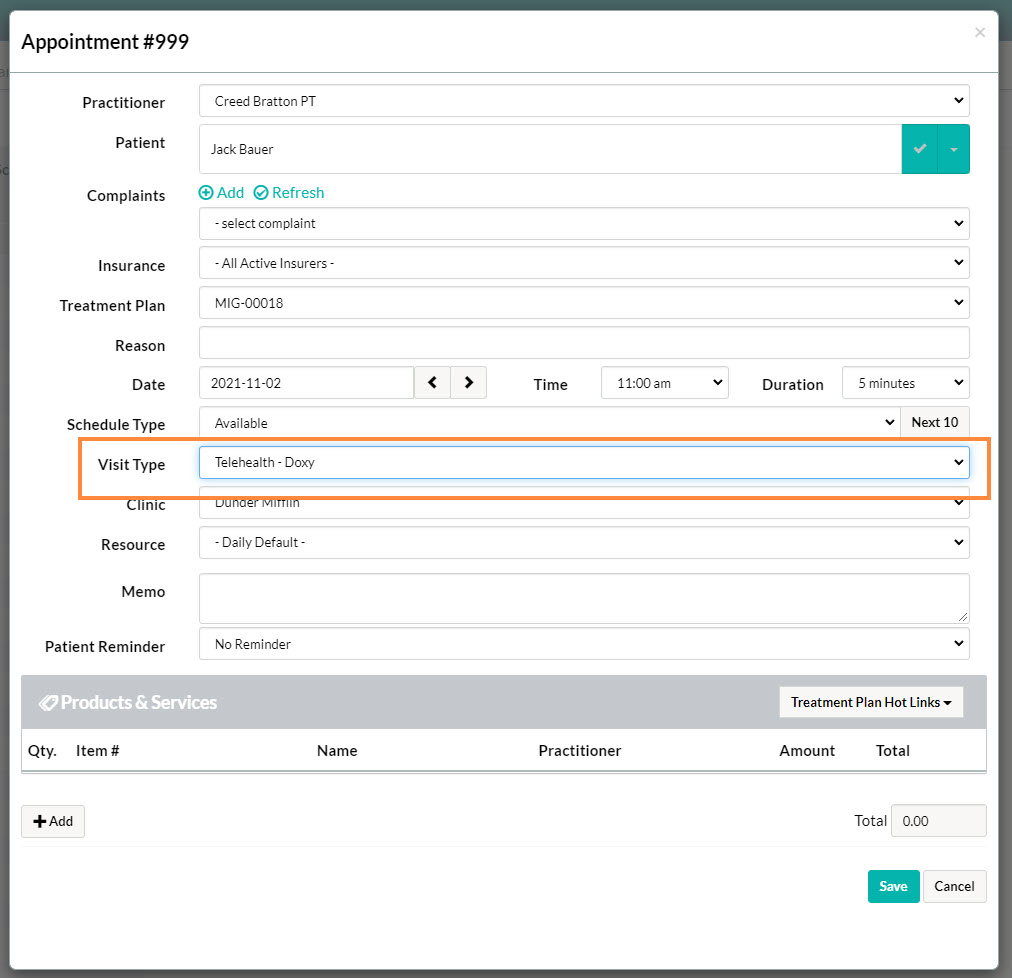 The appointment will display with diagonal lines indicating a Telehealth appointment:
Step 2: Patient Email
The patient must have a valid email address in their Patient Profile,
otherwise the patient will not be able to virtually attend the appointment.
Step 3: Patient Email Session Invitation
From the Schedule, select the appointment and choose Send Session Email
The patient will then receive an invitation within minutes to the video session.
A Join the Session link within the email will be used by the patient on the date and time of the appointment. The patient can access the session from either their computer, phone or tablet.
The patient's appointment reminder and notification will include the Doxy Room URL as well.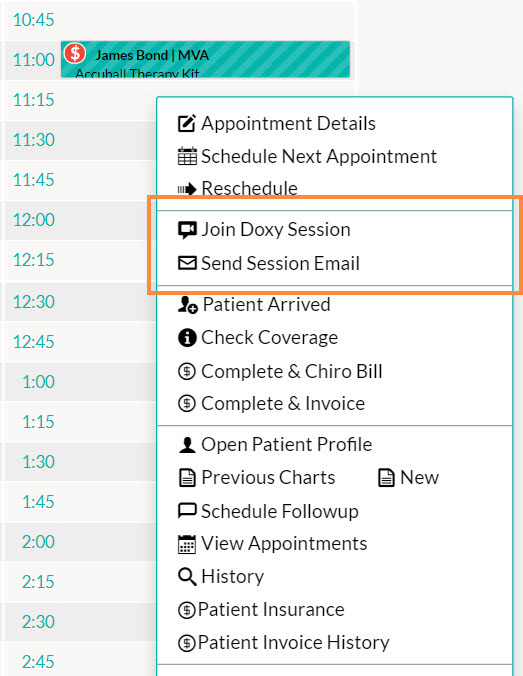 Step 4: Practitioner Doxy Session
On the scheduled date and time, the practitioner will click on the appointment and select Join Doxy Session. Both parties will be linked to commence the meeting.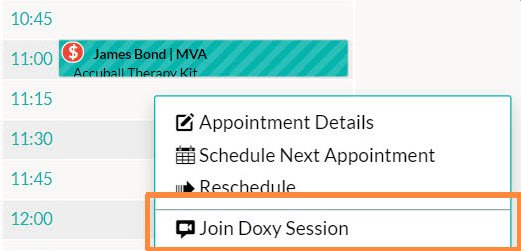 Doxy Support