In this article, you'll learn how to set up the different products and services that you offer so you can schedule and invoice each one.
If you are setting up a large list of products and services, contact the Juvonno support team at support@juvonno.com for assistance with a bulk import (a big time-saver!)
Before You Begin
1. You will want to have your products and services hierarchy set up first:
2. If you charge tax on your products and services, you will want to go to Settings > General > Accounting > Taxes to set up your taxes.
3. You will also want to set up your Schedule Types so they can be assigned to services.
Note: Schedule Types are assigned to each practitioner to allow you to filter products & services, colour code appointment blocks, and control which products or services can be booked on the patient portal. See How-To Set Up Schedule Types to learn more.
Step-by-Step Instructions
Step 1
Go to Settings > Products & Services > Add New Item.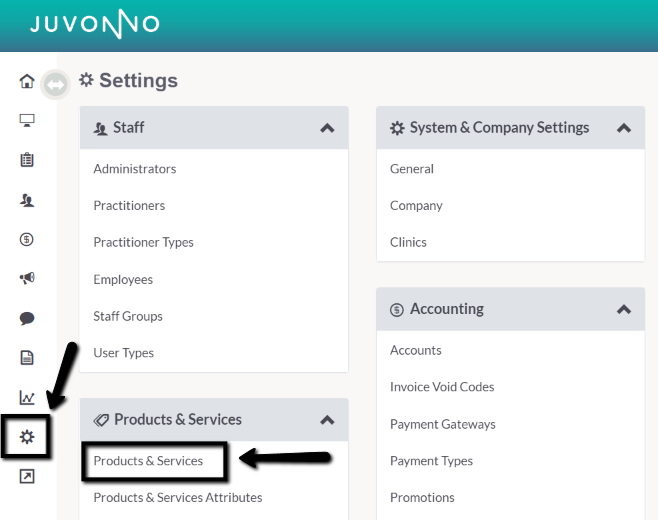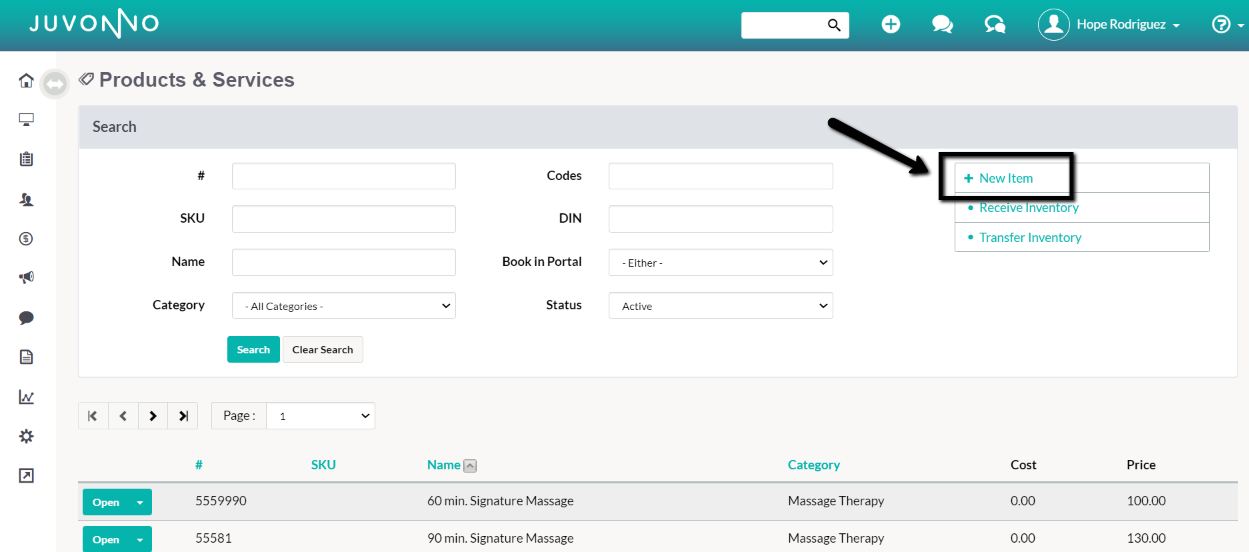 Step 2
Choose a previously-made department that the product or service belongs to.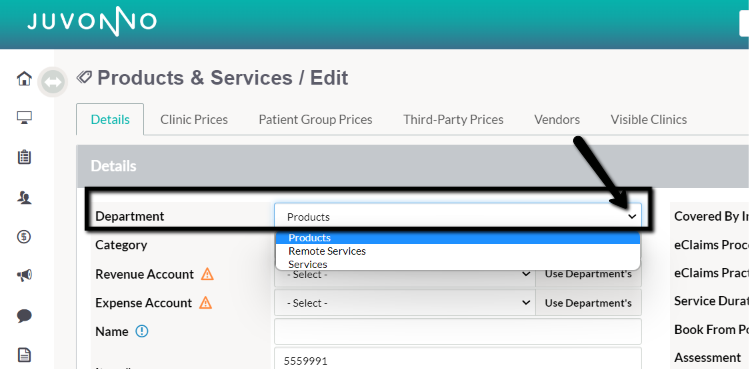 Step 3
Choose a previously-made category that the product or service belongs to.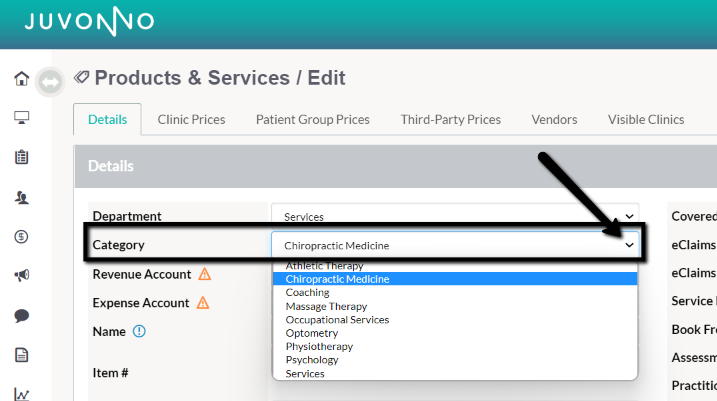 Step 4
Enter a product or service name.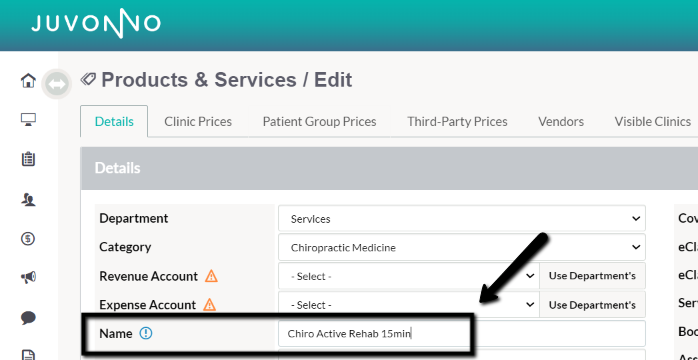 Step 5
Enter an item # (if you don't have an official item # you can enter any arbitrary number). This number is used to identify and search for the product or service across different clinic locations and your entire company.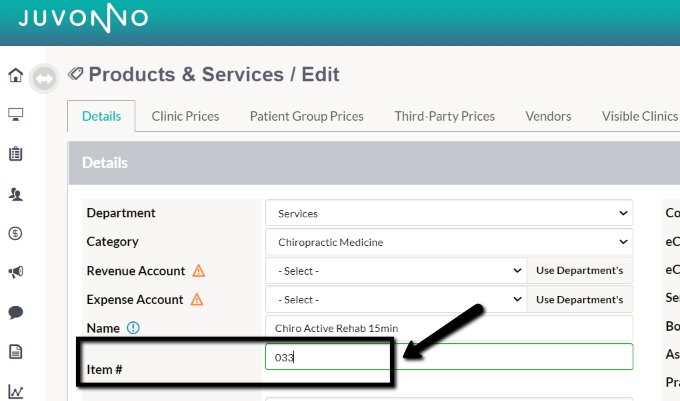 Step 6
Enter the retail price of the product or service.
Note: The fields between Item # and Retail, such as SKU, Codes, Unit of Measure etc. are optional and serve to store additional details about the product or service.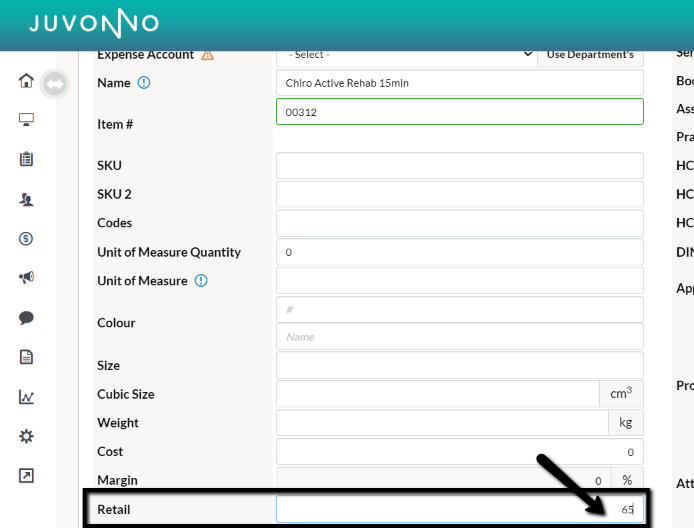 Step 7
Use the drop-down menus to select:
the applicable tax type(s) on this product or service
the payable tax types (taxes owed by your clinic in federal, provincial and municipal taxes for sales on this product or service)
and if you're setting up a product, whether you wish to enable inventory tracking for it
Note: The description field is optional and can be used to provide additional product or service details as necessary.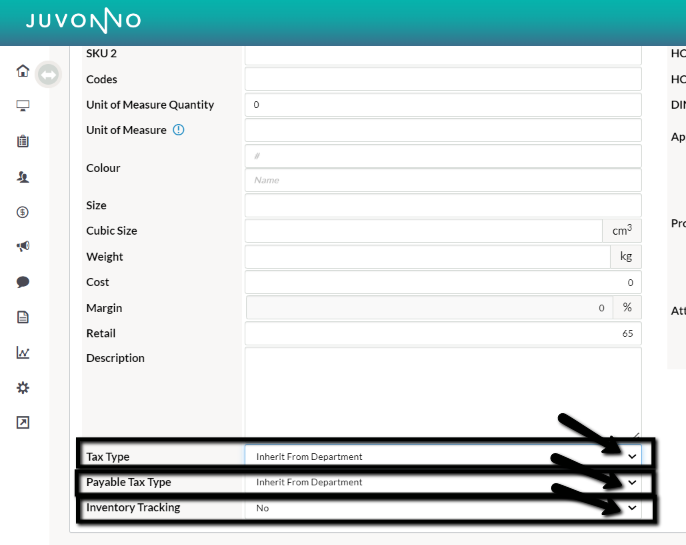 Step 8
Using the drop-down menu, indicate whether the product or service may be covered by insurance, and select the service duration (if applicable).
Note: The eClaims Procedure Code and eClaims Practitioner Types fields can be left blank. If you plan to use or are already using the Juvonno + Telus Health eClaims integration, and you know the eClaims Procedure Code, select it from the drop-down menu. The eClaims Practitioner Types field will then auto-populate once the procedure code has been selected.

Step 9 (Setting up Services for Online Booking)
If setting up a service, indicate whether this service can be booked online from the patient portal. When you select Yes, additional fields will appear.
Enter the number of Portal Conflicts Allowed, Resource Assignment, and Visit Type.
Additional Field Descriptions
| | |
| --- | --- |
| Portal Conflicts Allowed | The number of appointments that can be booked in the same time slot for this service type. |
| Resource Assignment | The resource (room or equipment) to be automatically reserved when this service is booked on the patient portal (if applicable). |
| Visit Type | Where the service will take place (in-person or online). |

Step 10 (Setting Up Services for Online Booking)
Select the Schedule Types you wish to apply to this service.
Note: This action gives you control over which services are offered on the patient portal for each clinic location. You can also assign schedule types to Practitioner(s) to control which services may be booked online with the practitioner. See How to Set up Schedule Types and Assign Them to a Practitioner to learn more.

Step 11
Click Save to return to the products and services page.
If you wish to save your changes and continue editing additional tabs, click Apply.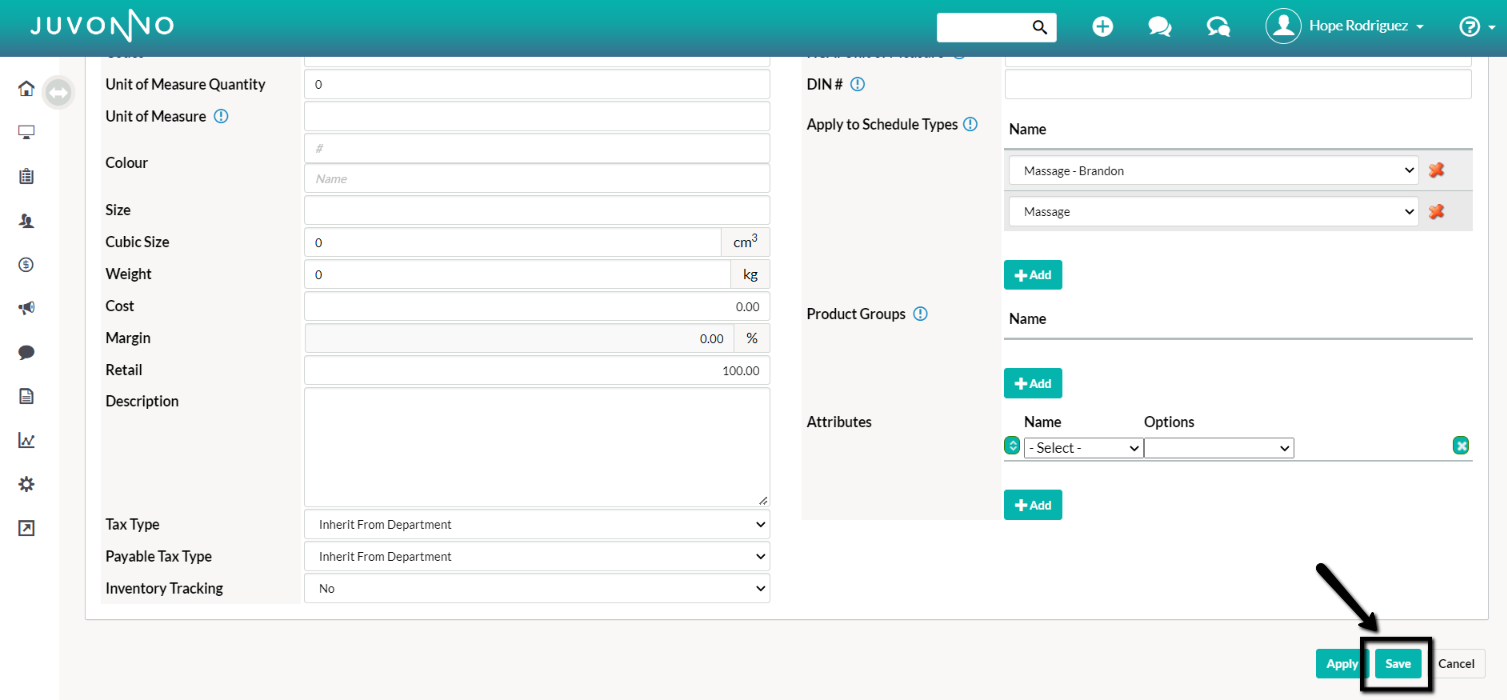 The new product or service has been created. You can now schedule and invoice this product or service.
Further reading: How to Set Varying Prices for a Specific Product or Service by Clinic Location