This article will walk you through how to create an individual product or service for invoicing. For instructions on how to mass import a list of products and services from your previous system, please Click Here.
Note: You must have access to Settings and the ability to edit and create Products & Services. If your schedule will be colour-coded by Products & Services it would be beneficial to create the Schedule Types beforehand.
Step 1
Select the Settings from the left side toolbar.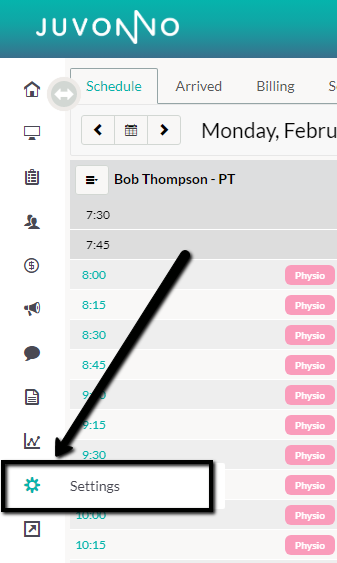 Step 2
Under Products & Services, select Products & Services.

Step 3
Select + New Item

Step 4
Select your Department and Category from the dropdown menu's.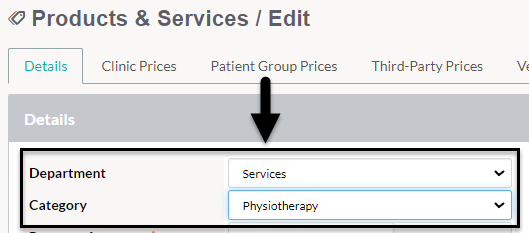 Note: If you need to create additional Departments and Categories go back to Settings and choose Products & Services Departments and/or Products & Services Categories and create as needed.
Trouble Shooting: If you notice when booking an appointment on the schedule the item you created is not found, open the Product & Service and make sure you have selected a Category.
Step 5
Fill in a unique Name and Item # that will be searchable in the appointment booking and billing screens.

Step 6
Enter Cost (if relevant), and Retail for accounting and commission payments. The Margin field will auto-fill based on the tallies entered.
Note: Cost is how much the product or service costs your clinic.
Retail is the amount you'll charge your patients for the product or service.

Step 7
If this is a service that will be submitted through the Telus eClaims Integration, you will need to select the correct eClaims Procedure Code. You will also need to update the Service Duration and make sure the Unit of Measure Quantity and Unit of Measure are filled in as well.


Step 8
If you want to allow patients to also book the service through the Patient Portal, update the field Book From Portal. Next to Portal Conflicts Allowed, enter the number of appointment conflicts you wish to allow. The number you enter here will determine how many appointments can be booked in the same time block.

Step 9
Check off the box in this section if the service is an Assessment, and select the Practitioner Type for tracking and reporting purposes.

Step 10
Add the Schedule Types or the Practitioner Schedule Types that you have created for the Product & Services, depending on which type of schedule you have set up. Click +Add. For more information and best practices on setting up your Schedule Types click here. Settings: How to Set up Schedule Types & Colour Code Your Schedule

Once the above basic information is updated the Product & Service will be bookable on the Patient Portal and the Practitioner Schedules.
Congratulations on completing Simple System Setup: Part 4!