To push your scheduled appointments from Juvonno to your iCal, Google, Outlook, or another third-party calendar, follow these steps:
Notes: This is a one-way integration therefore any changes you make in your personal calendar will not be reflected in Juvonno. Some calendar apps can take up to an hour to update appointment changes.
Before you begin, your account will need to have the Google Calendar Integration Module set to 'Enabled'. Any user designated the Full Access user type can enable the module by going to Settings > Modules > Integrations > Google Calendar and selecting 'Enabled' from the drop-down menu.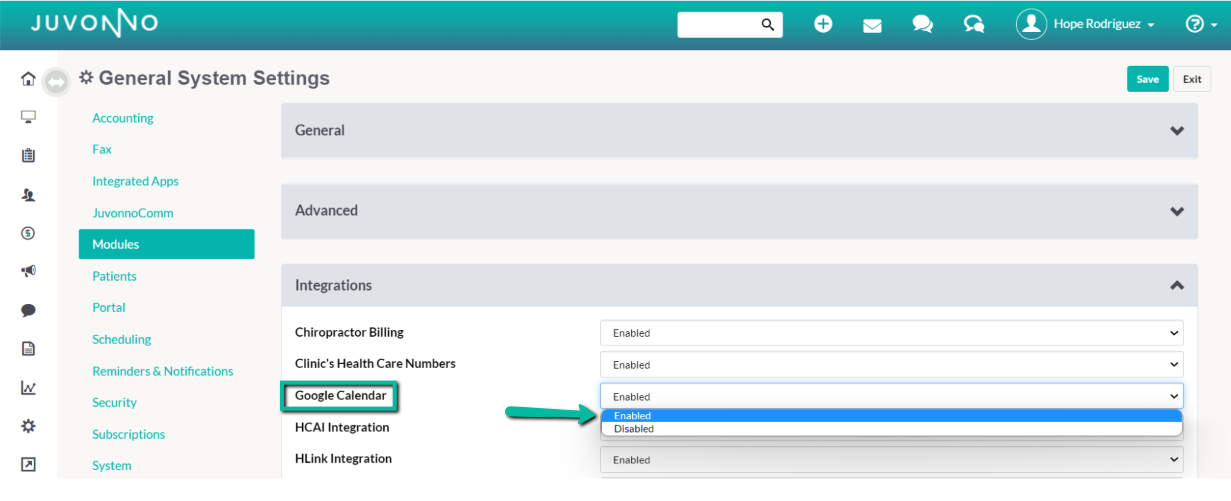 Step 1: Log in to Juvonno with your Practitioner login
Step 2: Once logged in, go to your profile located in the top right-hand corner of your screen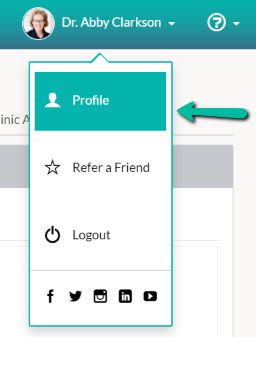 Step 3:

Select the Preferences tab

Step 4:

N

ext to Subscribe to Calendar, click 'Subscribe'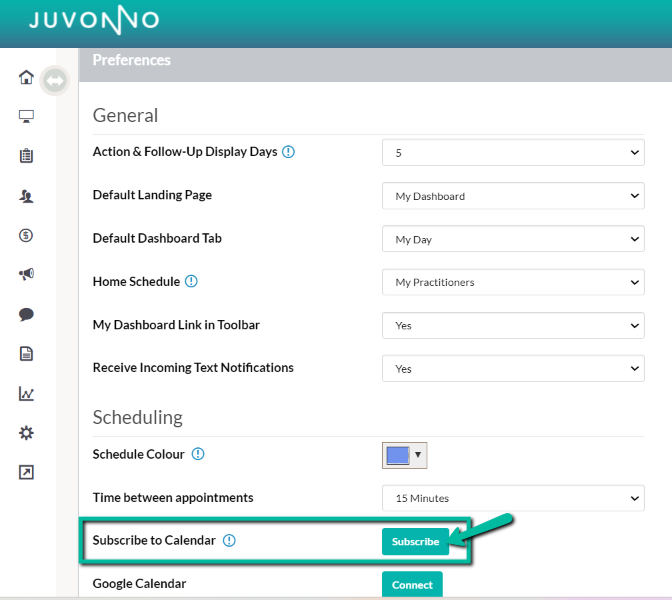 Step 5:

You'll have three ways to subscribe.
1. If you'd like to sync your Google Calendar or Outlook Calendar, use the Subscribe using Google Calendar or Microsoft Outlook option by clicking on 'Google Calendar' or 'Microsoft Outlook'. Once logged in to your Google or Outlook account, simply follow the prompts to add your Juvonno calendar.

If you're setting up the integration to your Google Calendar, be sure to also click 'Connect' to Google Calendar inside your preferences tab.

2. If you'd like to sync to your iCal or another third-party calendar application you have downloaded on your device, select 'Subscribe on this device'. A window will appear prompting you to select the application you wish to integrate. From there, follow the prompts to complete the integration.

3. Or manually subscribe by clicking 'Copy to Clipboard' and opening your calendar app and adding your calendar by pasting the URL on your clipboard in the field provided in your app.