---

Send the right message to the right patients at the right time with automated messaging. Create an automated text or email campaign, set your parameters and save. Your message automatically sends to patients when they meet certain criteria.


---
Overview
---
How much does it cost?
Our goal is to make JComm affordable for clinics of any size. Therefore we offer three flexible pricing plans to choose from. Each plan is available as an add-on to your Juvonno subscription. You can pay by the month and cancel at any time.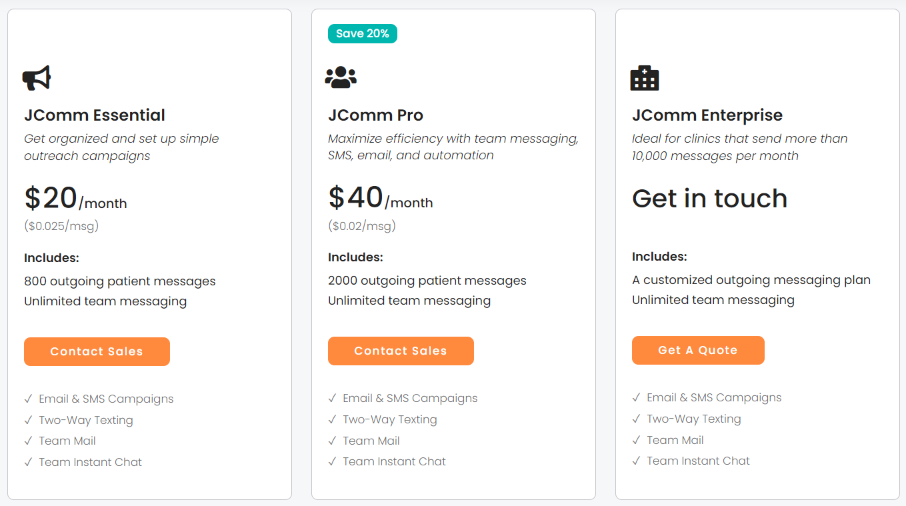 * Note:
As of June 9, 2022, JComm Team Messaging comes bundled with JComm Patient Messaging. As we continue to advance and expand our communications features, we believe JComm should be more universally reflective of its purpose — to connect everyone in your clinic community.
---
Where is it?

Start by navigating to

JuvonnoComm from the sidebar menu.*
Select the

link found on the main campaign dashboard.

* Note:
If you cannot find the icon within your menu, you may not have been granted access. Edit access in Settings > User Types > Communication > JuvonnoComm


---
Step-by-Step Instructions
Create your first Campaign
Each campaign can be created from an existing template or customized from scratch.
a) Campaigns | Type


First, select to create either an Email or Text Message campaign.



Email campaigns have the benefit of various formatting options and the ability to include images and hyperlinks (text or image that links to a URL).

Text Message campaigns will have a much higher count of being read by recipients but are limited to text only. Each text message has a max character count of 160 characters. Surpassing past that amount will send multiple text messages.

Note: If creating a Text Message campaign and including the Booking Link and/or Rating link, each link will be sent as its own message, thereby adding to the message count per send.

b) Campaigns | Templates


There are various preset templates available to get your campaigns started. Each will include preset settings based on the template's goal and can be customized.




Appointment Follow-Up
Send a friendly post-appointment message to patients and remind them how to easily re-book.





AR Reminder (60 Days)
Remind patients to pay their accounts receivable balance after 60 days have passed without payment.





Benefit Reminder
A reminder to patients to book a visit before their insurance benefits expire.




Birthday Greeting
Send a birthday greeting message the day of the patient's date of birth.




COVID-19 Protocols
Send pre-appointment instructions regarding your clinic's COVID-19 protocols.




First Appointment Survey
Ask new patients to rate their first visit.




General Announcement
A general announcement sent to all subscribed patients.






Google Reviews
Collect Google reviews post-appointment with this simple email template.
Google reviews help build trust and credibility, improve SEO, and offer insight through feedback.




Holiday Greeting
A holiday greeting to extend your best wishes to patients and announce your clinic's holiday hours.




Intake Reminder
Remind new patients to complete their intake forms before their appointment.




Lapsed Patients 30 Days
Remind patients you haven't seen in over 30 days to schedule a visit.




Lapsed Patients 60 Days
Remind patients you haven't seen in over 60 days to schedule a visit.




Post-Treatment Advice
Share post-treatment instructions with patients with this template.
Be sure to select the correct Item # in the settings.




Referral Appreciation
A thank you message sent to existing patients that referred a new patient.




Welcome Post-Appointment
A friendly welcome greeting sent after a patient's first completed appointment.




Welcome Pre-Appointment
Welcome new patients and help them feel prepared for their first appointment.
Use this message to share pre-treatment instructions, and direct them to the patient portal to finish setting up their profile, and submit intake forms online.




Custom
Start from scratch and customize the campaign to your preference.





c) Campaigns | Triggers


Triggers are actions that must take place to send out a message.
Here are the various triggers you can use with your campaign.



Note: Certain triggers are restricted to the template selected.


1) Appointment
These triggers are based on patient appointments.
Select if it's based on the first appointment, every appointment
or the last appointment as of 30, 60, 90 or over 90 days ago.



2) Balance Owing
This is based on a patient's receivable after a specified amount of days pass


3) Cancellation
This is based on any patient's cancelled appointments
that do not have future appointments scheduled.


4) Custom Date
This option allows for a custom date to be entered to send on.


5) Date of Birth
This is based on the patient profile's date of birth.


6) Insurance Reset Date
This is based on the patient profile's insurance's reset date.


7) Invoiced Item
This option provides a type-to-search field to indicate
which product/service being invoiced is applicable to this message.


8) New Patient Profile Creation

This is based on a new patient profile being created.


d) Campaigns | Audience


Set which patients are to be involved in the campaign. By default All Subscribed Patients is assigned, which filters out active patients that have unsubscribed from receiving Jcomm communications.



To customize your patient list, select Create a New Patient List from the Audience tab.



Select from a variety of patient filters, set your parameters, name your list and save.
Once a patient list is saved, it's added to the Audience selection to use with any campaign.

Patient Status can also be assigned to generally filter the campaign further.
By default only Active patient profiles are included in Jcomm's campaigns.


e) Campaigns | Scheduling


This setting controls when to send the message, based on the trigger.
Based on the template & trigger selected, there will be certain send options available.



i.e. The Date of Birth trigger will populate the Send On date automatically to 'Day Of'.
f) Campaigns | Start & End Date


These dates are where you can control the start/stop date of the campaign.

By default, the Start Date will populate with the present day, but can be
set to a future date to have the campaign begin then instead,

The End Date will schedule the deactivation of the campaign. Alternatively, enable the Ongoing checkbox to have the campaign running until manually deactivated.
g) Campaigns | Call to Action




Portal Booking Link:



Enable this checkbox to include a 'Book an Appointment' link at the
end of the message. This link directs the user to the Patient Portal.

Note: This link's clicks are tracked in campaign reports as CTR.


Rating Link (1-5 Stars):




Enable this checkbox to include rating links at the end of the message.
Patients can select from one of the faces to rate their appointment.

A confirmation of their selection will display:



Once they have submitted feedback, they cannot make any changes.
Note: This link's ratings are tracked in campaign reports.

i) Campaigns | Overview




Select to Activate or Inactivate the campaign.
Only a saved campaign can preview the audience results and be activated.
Before activation, a Preview will display estimated results based on the first date of the campaign.


Send a Sample Message
Enter your email address or phone number to have an immediate sample of the message sent with generic data populating the patient tags. Test out your design and check layouts across different devices.


See Campaign Audience Queue
Enter a date to simulate a log of patients that match the campaign's criteria. See a total number of patients that are queued for that day.


View Campaign Report
This is a link to view the campaign's sending details, stats, error logs and more. This page can be directly accessed from the main Jcomm dashboard.
---
Campaign Testing
You are able (and encouraged) to run tests on your campaign before activation.
Within the Campaign Overview tab, you'll find two options to do so.


a) Campaign Audience Queue


Use this option to preview how many total recipients are estimated to receive the campaign's message based on the 'preview' date entered. Also, you will be able to validate the formatting and tags found within the message as well as view the overall finished look of the design.

i.e. A birthday campaign is created, with its Send On set to Day Of.
To run a preview, enter any date that has the month/day matching up to a patient's profile date of birth. This will simulate that date and provide the total count of messages being sent and a preview of the messages listed below the campaign.

For any campaign that has Send On set to Day Prior, After, Month After, etc. keep in mind to use this to offset your preview date.

i.e. Benefit Reminder campaign is set with its Send Date set to Month Prior.
To run a preview, enter any typical insurance reset date (the first of any month) but back date it by a full month. To view a sample of your Sept 1st reset reminders messages, set the Preview date to Aug 1st.
b) Send a Sample Message


Use this option to actually send a single email or text message example to your own email/phone to have an instant sample for review. This helps in viewing the final result ahead of time on a phone or desktop, to edit formatting if necessary. Tags used with Samples will display example placeholder details.
---
Campaign Reporting

Each campaign has its own statistics 'live' report available.
Select

next to a campaign:


Report | Live Statistics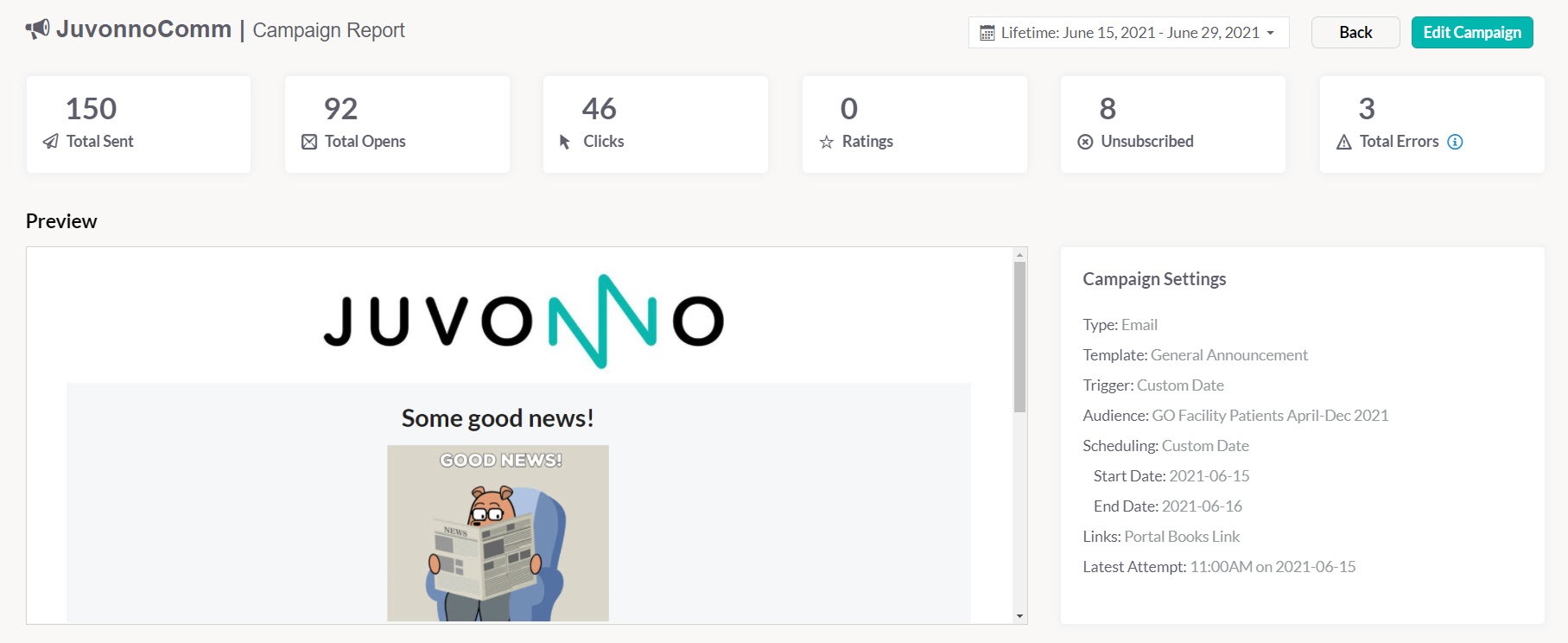 The following details are listed, specific to the campaign:

a) Total Sent: Total messages successfully sent
b) Total Opens: Total messages opened by the recipient
c) Clicks: Total patients that clicked the 'Book an Appointment' link
d) Ratings: Average Rating submitted (when applicable)
e) Unsubscribed: Total patients that unsubscribed to Jcomm
f) Total Errors: Total messages not sent due to potential errors
*Hover over the help tooltip to see a breakdown of errors when applicable

Report | Send Logs
The campaign's send logs will display in the lower half of the report.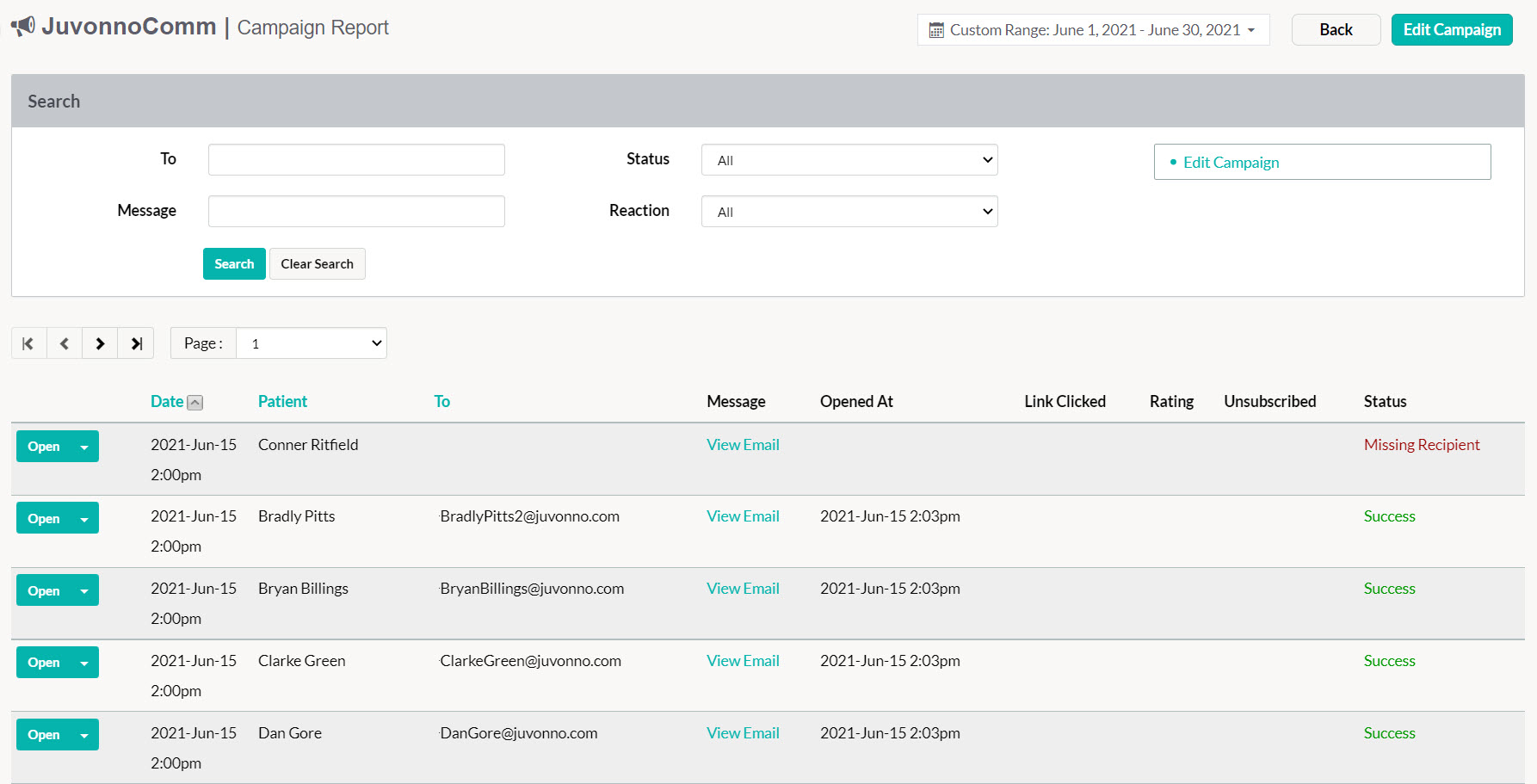 Filter the logs by Status (Success, Error, etc.) and/or Reaction (Click, Rate, etc.).
Results include the date sent, date/time opened, if the portal booking link was clicked and more.


---
Additional Notes

1) Once a campaign is sent once, you cannot change its Type (email/text)

2) Any messages that were not sent due to errors are logged in the reports

3) A campaign will attempt to resend the unsent message throughout the day

4) A max of approx 20,000 messages can be sent (per system) in a single day.
Any messages queued but not sent due to this max will attempt to be sent the following day.

5) Text Messages are maxed at 160 characters in length per message.

6) The text Reply UNSUB to Unsubscribe is included with every text message or string of text messages sent together (i.e. sending out 178 characters, which is made up of 2 messages in a string) to allow the recipient to unsubscribe at any point of contact.