Overview
1. Schedule Types

Navigate to Settings>Schedule & Holidays Section> Schedule Types.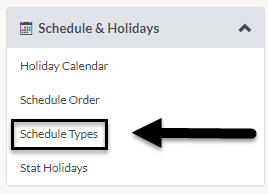 Create a New Schedule Type

Schedule Types provide a variety of assignable schedules to practitioners.

Select

located on the top-right corner of the page.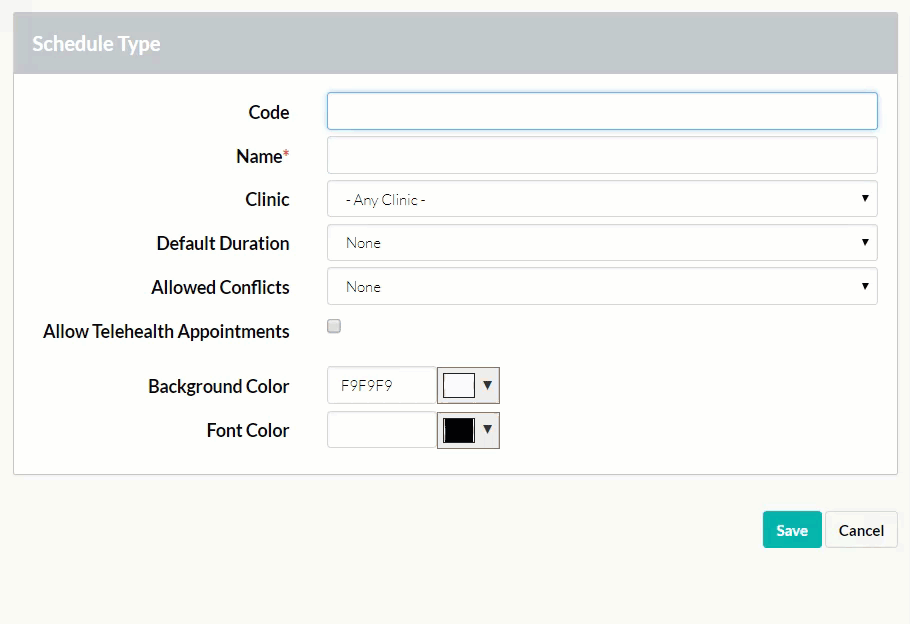 Learn more about the individual fields




| | |
| --- | --- |
| Code | Codes are not required to be entered but can be used if preferred. |
| Name | Enter a title for the Schedule Type |
| Clinic | If in a multi-clinic setting, you may select to allow this schedule type to be used in any or a specific clinic. |
| Default Duration | Select the default duration that will apply to appointments booked without products or services used. Otherwise, a product or service's default duration will override the schedule type's set duration. |
| Allowed Conflicts | Select whether this schedule type will allow more than one appointment booked at the same time. Otherwise, an override will be required by the user creating the appointment. |
| Allow Telehealth Appointments | If using Telehealth, select whether or not this schedule type will be applicable for booking telehealth appointments. |
| Background Color | Select a colour by preference to distinguish one schedule type from another visually. |
| Font Color | If selecting a very dark or blank backround color, it is recommended to adjust the font color to prevent the text displayed on appointments to blend in. |

Click here for further information on Schedule Types



Assign Schedule Types
Navigate to Settings>Staff Section>Practitioners.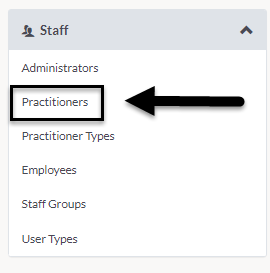 Select Open next to the Practitioner.

Locate the field "Can be Booked in Patient Portal", set to Yes and Apply Changes.



Navigate to the Availability tab and select +Add next to Standard Availability. Or edit an existing Availability record.



Enter an Effective Date (the first day applicable to this schedule) and an End Date (the last day applicable to this schedule). Then select edit next to Schedule Type.
Note

When creating availability records ensure if you have more than 1 record they are in chronological order for example

Start Date Jan. 1, 2023 End Date April 30, 2023 the next availability would be

Start Date May 1, 2023 End Aug. 1, 2023.


Choose from the schedule types under the Available heading and select Add.

If you would like to assign a different default duration select it from the menu.

To remove added schedule types, select the red

under the Added section and select Save.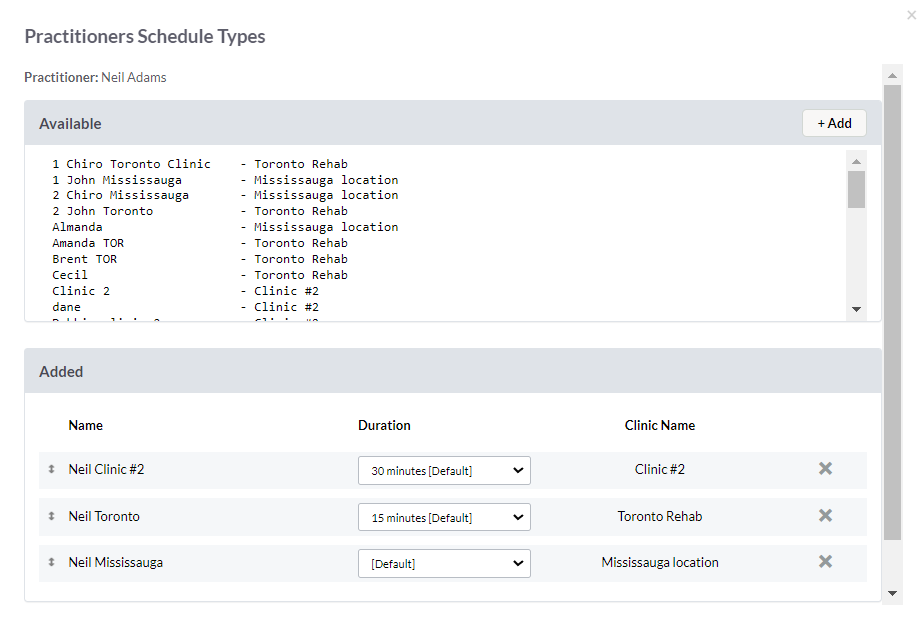 Within the Practitioner Availability record select a Schedule Type from those added then select blocks of available time.
| | |
| --- | --- |
| Tip | To select a whole row or block of time click on the first time block, hold down the shift key and click the last time block. The whole area within that space will be highlighted. Do the same to remove highlighted blocks. |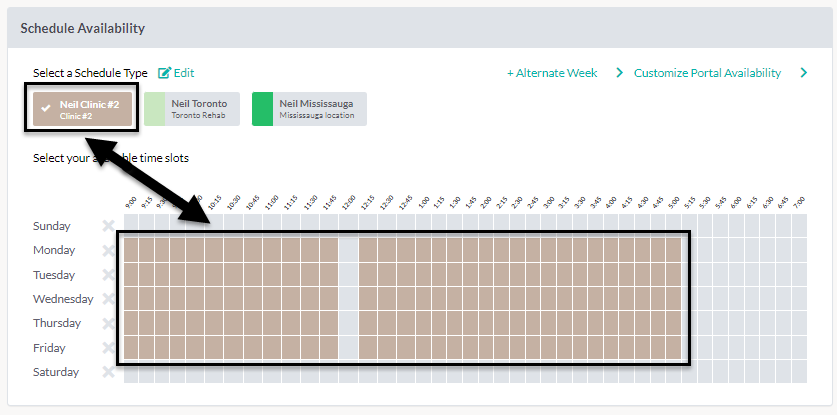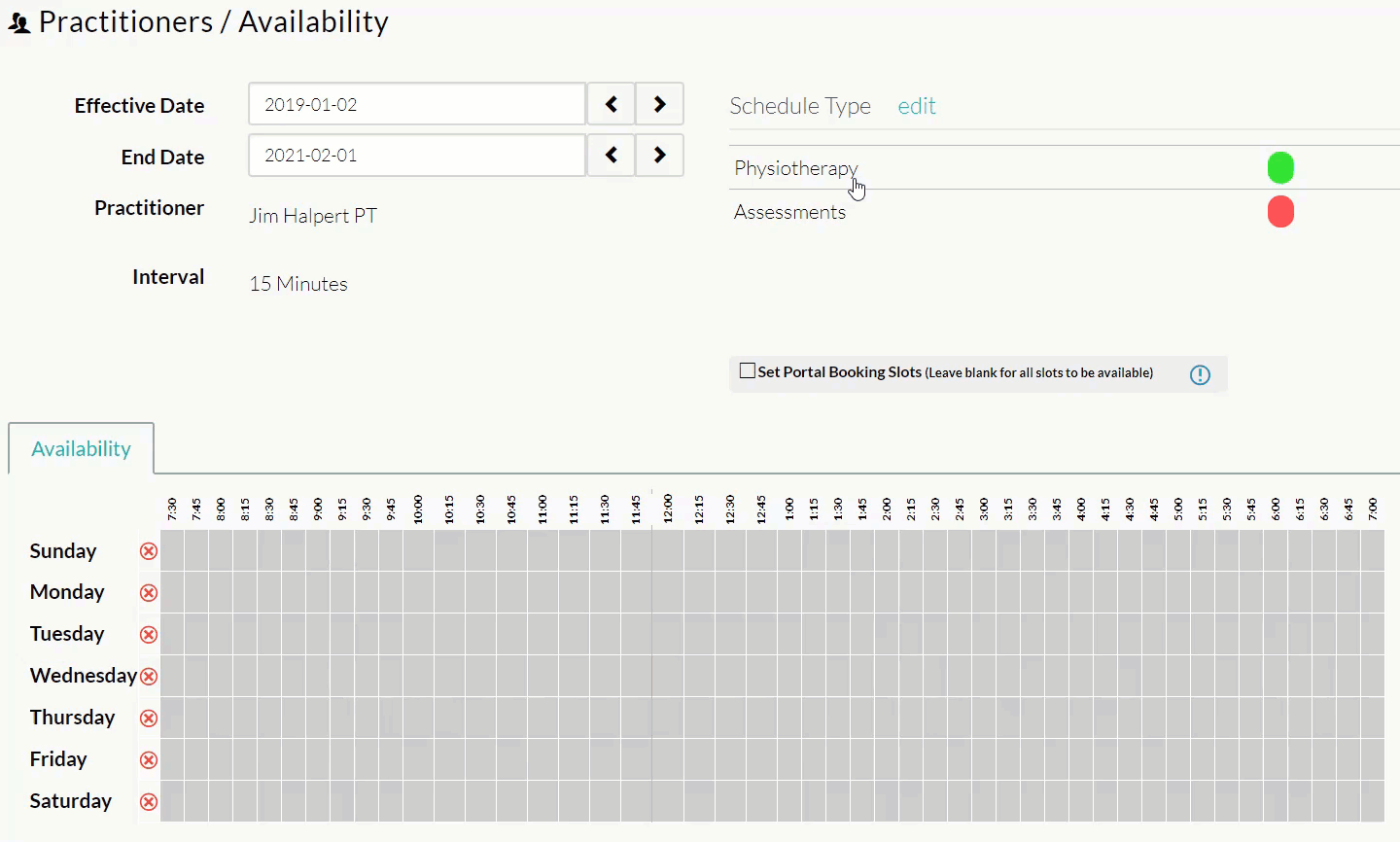 Portal Availability
Check the box next to Portal Booking Slots to choose specific spots of the schedule that will be available for patients to book using the patient portal. Otherwise, all available time will also be available for portal booking.

| | |
| --- | --- |
| Note | Using Portal Booking Slots, select at least one appointment block for every day the practitioner is available, or the full schedule will be available for portal booking. |

Click here for further information on assigning Schedule Types
N

otes

Schedule types not added to a block will be available during appointment booking.





In the example provided, the practitioner will have the available time assigned to the Physiotherapy schedule type and the user creating an appointment will have the option to select Assessments in its place.





This appointment will appear in its colour (as long as schedule settings are set to have the appointment colour as per Schedule Type) and apply allowed conflict rules.
2. Portal Products & Services
Navigate to Settings>Products & Services Section>Products & Services.

Select Open next to the service you would like to edit.


On the right, find the fields applicable to the Patient Portal.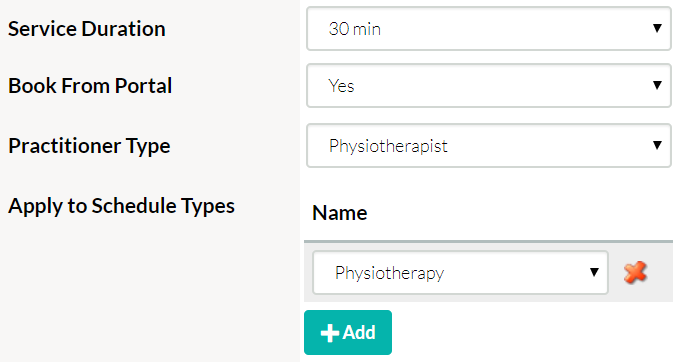 Learn more about the individual fields




Service Duration

Set the default service duration that can be adjusted by staff when booking an appointment, but not for patients booking within the patient portal.

Book From Portal

Select Yes to offer this service has an option for booking on the patient portal.

Practitioner Type

Assign the practitioner type that will apply when booking this service.

Apply to
Schedule Types

Assign the schedule type that will apply when booking this service.
Note

If you are a smaller clinic and have 1 or 2 locations you can set up a Schedule Type with the Practitioner name and the correct clinic location attached to it.

Assign the Schedule Type to the Practitioner and use it to set up their Availability.

When you are setting up the Products & Services for the portal, when you get to the Schedule Type field you will select the Practitioner name.

This is a very simplistic way of setting these fields up.
4. Patient Portal Access
Navigate to Patients

Select Open next to the patient you would like to edit.

Choose the Portal Access tab.
You can provide portal access for the patient with either of these two methods:


1) Select Click Here to send the patient an email with a link to the patient portal.

-- OR --

2) Select Create to enter an account username and password manually.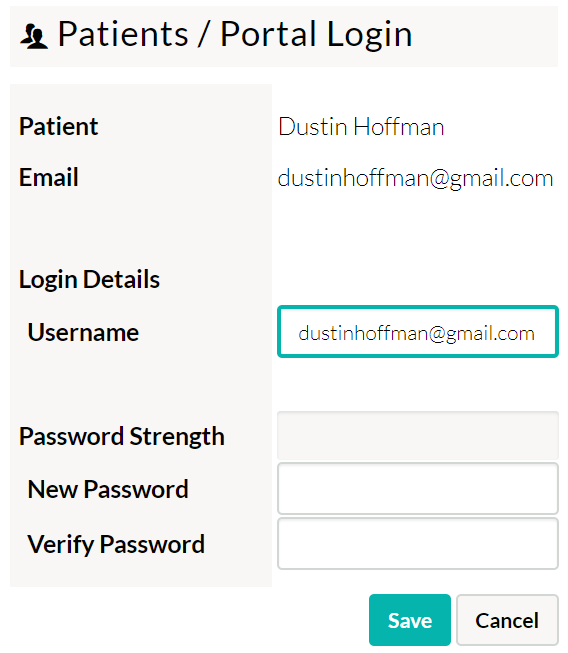 Within the Available Practitioners section, select one or more (by holding CTRL) practitioners that will be available to book the patient using the Patient Portal.




5. Online Patient Portal

Navigate to your Juvonno URL login page.
Locate the Looking for the Patient Portal? field, select Take Me There.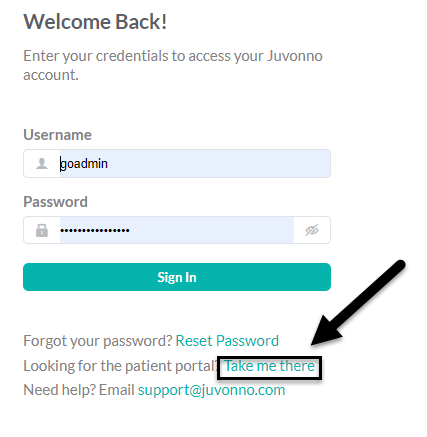 The Portal login page will display.

If public signup is enabled, users can sign themselves up and book appointments.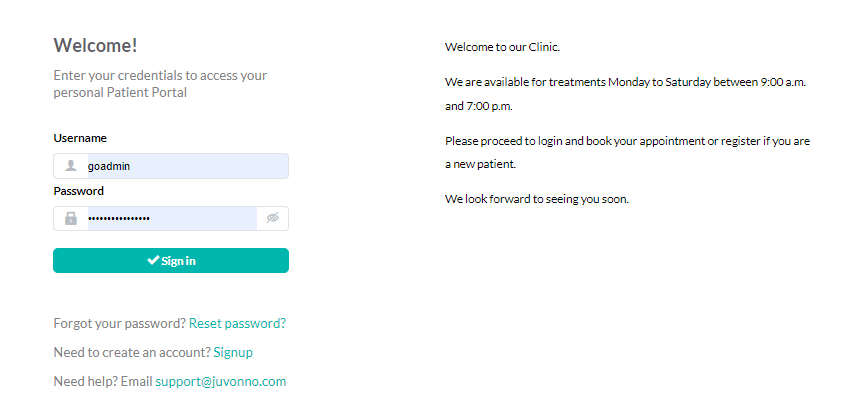 Learn more about the Patient Portal here



6. Link to the Juvonno Patient Portal


Provide your clinic website designer/administrator with your Portal URL so they can directly link the Patient Portal from a 'book appointment' button on your website.





Learn more about the process to link your website or social media to the Portal here
TIP: Create a test patient and log in to view the custom text areas you have
set up and experience the Patient Portal to provide guidance for new patients.
7. Patient Portal Reports
Navigate to

Reports

Under the Scheduling tab, select Portal Appointments.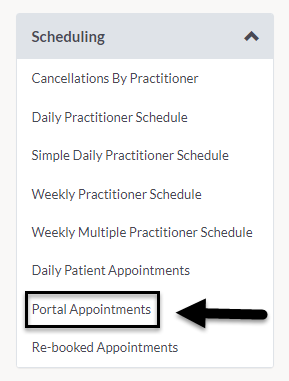 Enter a Start Date, an End Date and select to include either All patients that have scheduled appointments using the portal, or only those that are currently Active.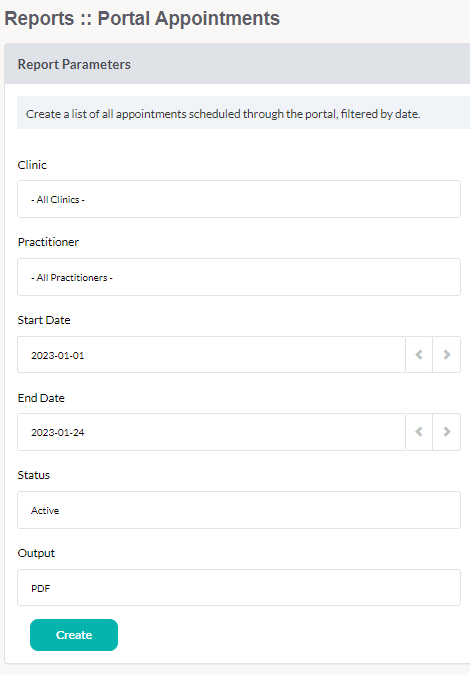 Congratulations on completing 'Basic System Setup : Part 5' !

You have now learned the basics of Juvonno's system setup.

Visit the Juvonno Training Video Library for available tutorials.