System Settings Insurance Default
Navigate to Settings>General>System>Patients>Insurance Section>Default Coverage Percentage.
This is the percentage that will automatically default when you create an insurance record in the Patient Profile, Insurance Tab.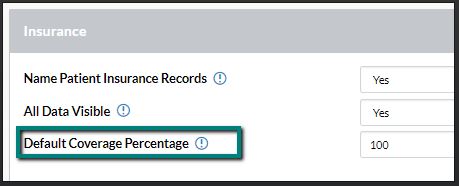 NOTES:
* Telus - If you are using the Telus module and billing directly through Juvonno, this field will always be set to 100%.
* You can override this in the patient profile under each individual insurance company record.
Visible Insurance Fields:
You may not require all Insurance Fields to be visible.  You can edit what fields appear in the Patients Insurance tab by going to Settings>General>System>Patients>Insurance section.
If you edit this page, scroll to the bottom of the page and "Save".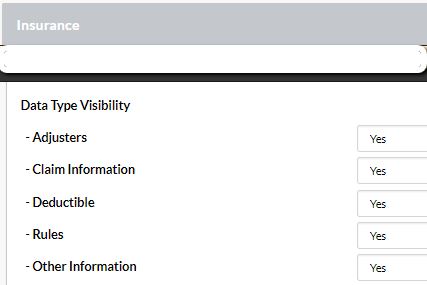 Insurance Forms:
Juvonno provides you the option to auto populate and create insurance forms that you can print for the patient if a physical form is required. 
If you would like to set these forms up to be created upon completing and invoicing, go to Settings>Forms to select the forms you want to create.
Select the check boxes beside the insurance forms.
Set up the Insurance Companies you will be using.
Before you can create an insurance record in the patient profile you need to create the insurance companies you will be billing under Settings>Third Party Companies>New Third Party. 
After these are created when you open the patient profile, Insurance tab you will have the insurance companies as options to select based on the coverage the patient has.

TELUS: If you are using Telus select the EClaims Procedure Code.