Keep up with which patients have not attended the clinic in a while.

Where is it?
Start by navigating to
Reports.
Under the Statistics heading, select Patients Drop-Off.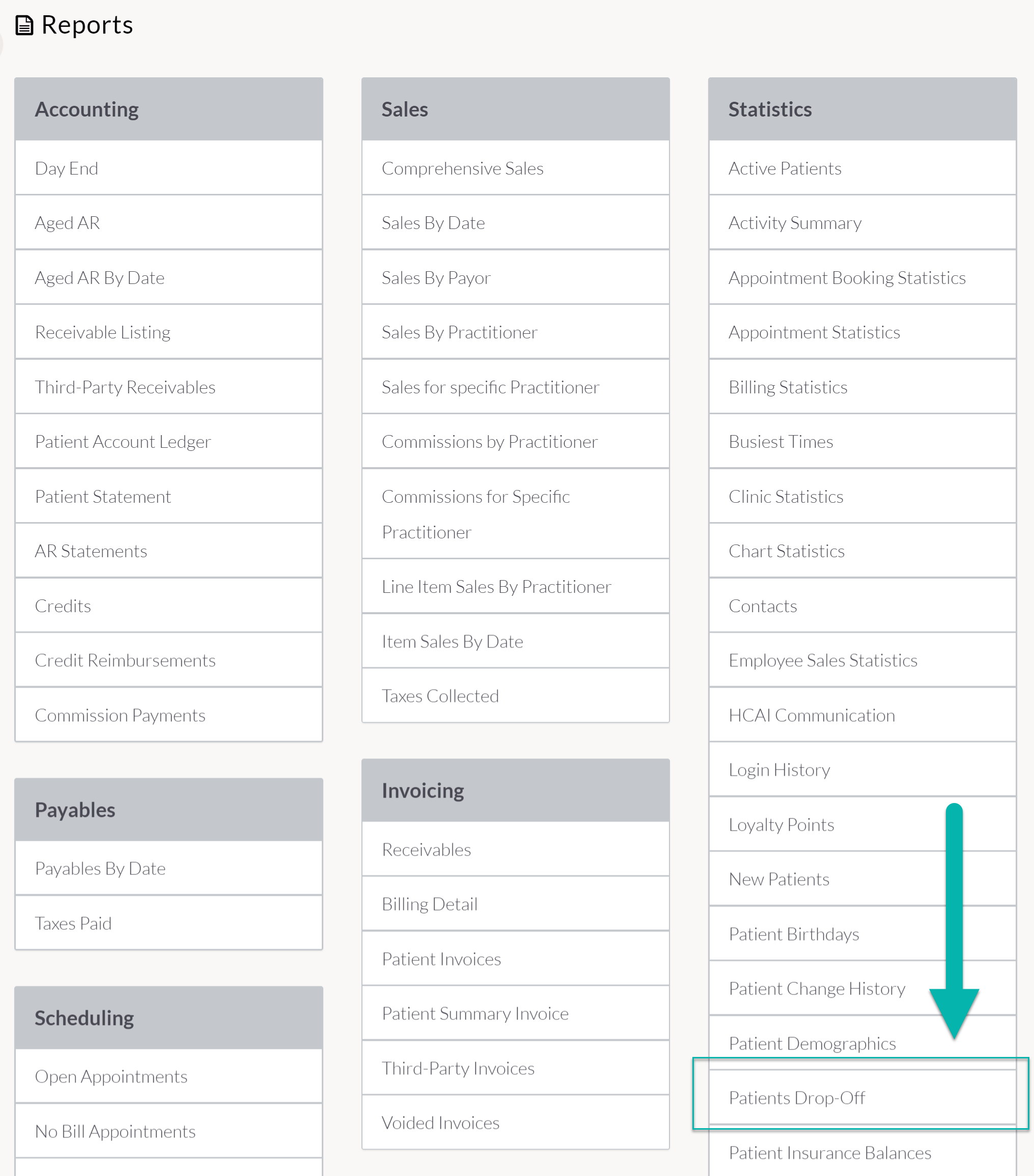 Enter in the details
Complete the Report Parameters in the available fields.





Parameters Explained
Click here for more about what each field represents.




| | |
| --- | --- |
| Patient | Enter a specific patient name or leave blank for all |
| Practitioner | Filter results by practitioner or leave as all |
| Patient of Clinic | Filter the results based per clinic or leave as all |
| Start/End Date | Enter the date range for the report |
| Include Discharged Patients | Check this on to include discharged patients |
| Include Patients with Upcoming Appointments | Check this to include Patients that have upcoming appointments scheduled |
| Output | Select Either MS Excel or PDF reports |
 

Note:
Setting the Excel output allows for custom sorting and quick calculations.
This report by default sorts by patient last name.

Report Sample:
Click on the image to view a larger sample of the excel output.

Columns & Calculations
Click here for more about what each field represents.

Name (of Patient)
Phone Number (Set as Default)
Email Address
Group Type (of Patient)
Default Clinic (of Patient)
Treatment Completed (To Date)
First Practitioner (Seen by the Patient)
Referral Source
Family Physician (General Practitioner)
Clinic (Based on Patient Appointments)
Date Created (Patient Added into System)
First Appointment Created (User which scheduled the first appointment)

 

 
Additional Notes


The 'Patient of Clinic' field works in two possible ways depending on the checkbox that is after it.
The default state is that the checkbox is checked.
1) If a clinic is selected and the checkbox is checked, only the appointments for that specific clinic will be included in the report. In the case where a patient has had appointments at another clinic within the company, they will not be counted on the report.
2) If a clinic is selected and the checkbox is unchecked, patients and their appointments will be listed if they have been seen (have a completed appointment) at the specified clinic above within the date range, given that they are an active customer, the number of appointments shown will include appointments at all clinics within the company. This option has been included because in some cases the report may indicate that a patient of a clinic does not seem to have many appointments, but in fact, they may have just been at another location.
In all cases, the customer must be active and the appointment must be completed.
The appointment must have taken place between the specified date range to be counted on the report.