Manage appointment details as you schedule.
While there are various shortcuts to booking appointments, the process of
creating an appointment is the same regardless of how you access the form.

Overview
Schedule Navigation:
From the Home Schedule, select the

to locate the date you would like to schedule for. Use the navigation arrows to navigate by month.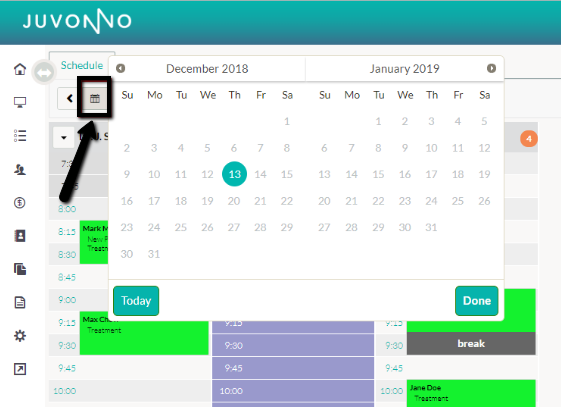 Use the navigation arrows next to the

to move through days.

On the schedule, select a time within the corresponding practitioner's columns.



Appointment Booking Window: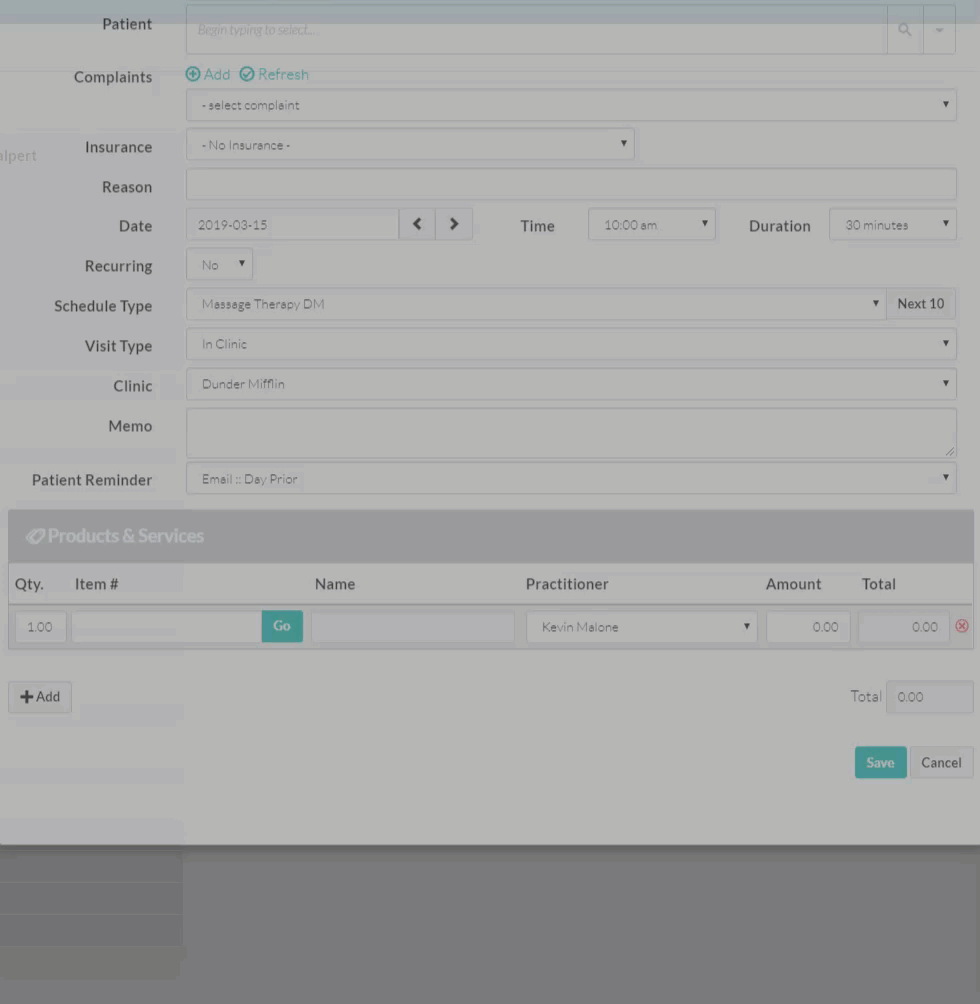 Click here to learn more about the individual fields




Practitioner

By default, the practitioner will be selected based on which column the time was selected from. You can choose another practitioner to add to the appointment or replace the current with another.

Patient

This is a type-to-search field based on a patient's first or last name.
If booking a new patient, use the down arrow to select New Patient.

Complaints

Create or select an existing complaint to link the appointment with.
Learn more below.

Insurance

Select from insurances created in the patient's profile.

Reason

Enter a brief note that will display as a label on the appointment.
i.e. Have patient sign claim forms or Knee Injury

Date/Time


By default, these fields will be based on the time selected.
Adjust them if you prefer another date or time.



Duration

This will default to the product or service's duration(s) being added to the appointment. Durations can be modified.

Recurring

Select this to open the recurring appointments section of the form.

Schedule Type

Select from the available Schedule Types created in settings and assigned to the practitioner.

Clinic

If in a multi-clinic setting, choose the appropriate clinic. The patient's default clinic assigned in their patient profile will be selected.

Memo

Enter any further text detail to be linked with this appointment.

Patient Reminder

The default patient reminder set within the patient's profile will be selected. Use the drop-down menu to choose another reminder type if necessary.
Adding a Patient Complaint from a New Appointment

When creating a new appointment, administrators and practitioners have the ability to

Add or select an existing Patient Complaint.






If you have just added a new complaint, be sure to select Refresh button to see the drop-down list of existing complaints update.