NOTE: BACKDATED PAYMENTS
If you have backdated any payments on the current day they are not reflected in the current Day End report.
Backdated payments will appear on the Day End report for the date you entered under the Summary section but not under the Transaction page listing.
Use the Payment Received Report and Sales Reports.



There are two areas in Juvonno you can pay multiple outstanding invoices.

The video above uses the first method: Invoice Search
The example below uses the second method: Receivables
Receivables Page

a. Go to Home>$Accounting>Billing section - Receivables.
b. Search for the patient.
To pay 1 item, click the blue icon to the left of the item and select Pay Invoice.


OR

a. To pay several items, check the boxes to the left of the items you want to pay.

b. Scroll to the bottom of the page, from the "With Select" field click "Pay" then "Submit".
c. The Receive Payment popup will open. Fill in the payment details.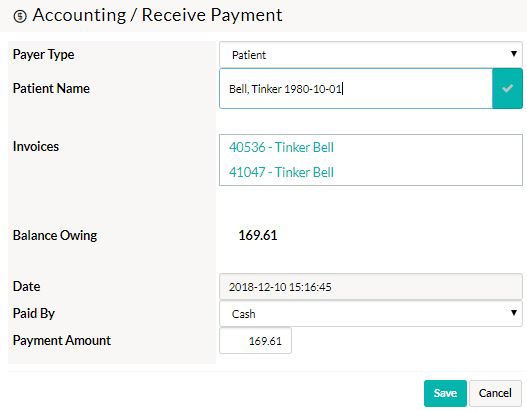 d. Save then Confirm. The systme will produce a Batch bill report you can print.