There are three methods of adding credits to patients.
1. New Credit Option
Use this option to give a patient, for example, a loyalty credit.
NOTES:
There is no Payment Type attached to this feature. You could enter a "Note" indicating the type of payment that was received.
You are able to backdate a payment using this option.
STEPS
Step 1
Go to the Home page . Selecting Accounting, Credits.
Select New Credit.
You will get the Accounting/Credits popup in the image below.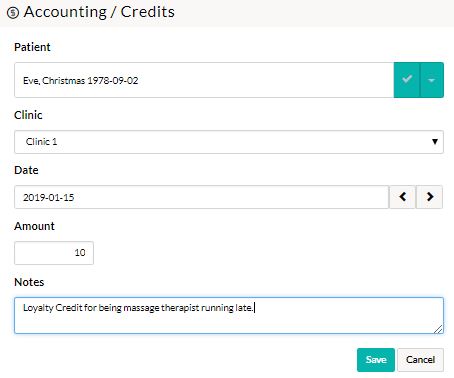 Step 2
Enter the Patients Name, select the Clinic, enter the Date and Amount of the credit and enter Notes if they apply then "Save".
Step 3
c. To see the credit go to the Patients Profile>History>Credits tab.


2. Enter Payments Option


Step 1
NOTE: Using this credit option you cannot backdate a payment but you can add a method of payment.Go to the Home page.
Accounting, Billing section and select Enter Payments.

Step 2
Select Patient or Insurance from the drop-down menu.

Enter the patient name, type of payment, amount etc. Select "Review".
The pop up allows you to select "Post Payments" or "Add More Payments".
When selecting to Post Payments the amount entered will appear as a credit on the patient's profile under the History, Credit tab. Add More Payments - you can add additional payments for the patient.

Where the credit will appear:
- Under the Patients Profile, History, Credits tab.
- Reports, Payments Received.
- Reports, Day End in the Total section.
- Also in combination with the Day End Report go to Reports, Credits. Set the date range to match the Day End Report to see Credits and Payment Type for that day to balance the report.
3) Using the Products & Services Option
a. Go to Settings>Products & Service>New Item. Create an item called Credit with no Retail amount and Save.
b. Go To Billing Tab on the Home page.
c. Create a Quick invoice using the product called "Credit".
d. The Credit product has a price of $0.00, simply complete the transaction and Pay the invoice
this will create a $0.00 invoice for the credit and will appear on reports.
It will create the payment record for accounting and will create a Credit on the patients Account.