1. Adding Credits using the credit option
2. Adding a Credit by entering a deposit (Enter Payments)
3. Adding a credit using a Gift Card
4. Adding a credit using a Gift Card with a Treatment Plan to countdown appointments
4. Using a gift card with a treatment plan
5. Using the gift card with the patient look up, New Payment
1. Adding Credits using the credit option
Use this option to give a patient, for example, a loyalty credit.
NOTES:
There is no Payment Type attached to this feature. You could enter a "Note" indicating the type of payment that was received.
You are able to backdate a payment using this option.
STEPS
Step 1
Go to the Home page . Select Accounting, Credits.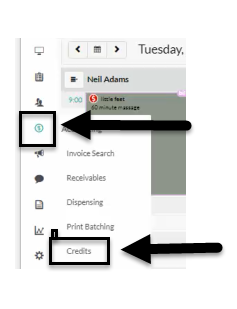 Step 2
Select New Credit.

Step 3
Enter the details for the credit and Save.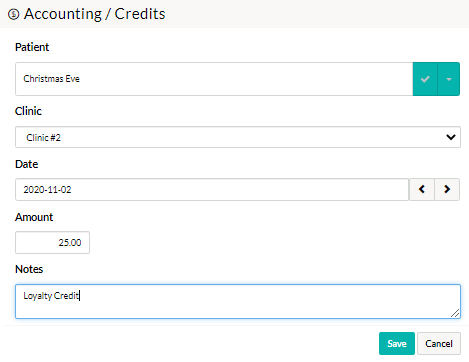 Step 4
To view the credit, open the Patient profile.
Go to History, Credits.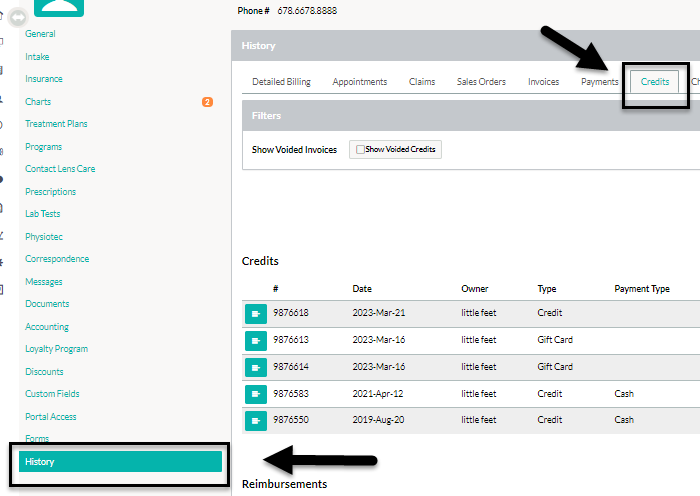 2. Adding a Deposit (credit) by using the "Enter Payment" option
Step 1
Go to Accounting>Enter Payments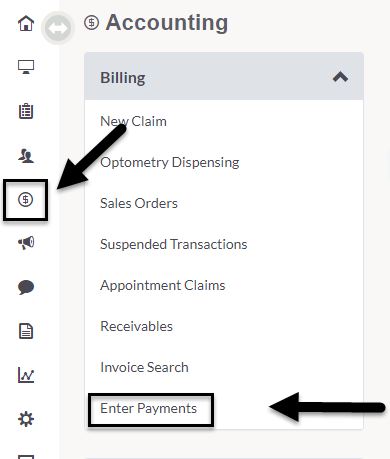 Step 2
Enter details for the credit and then select Review.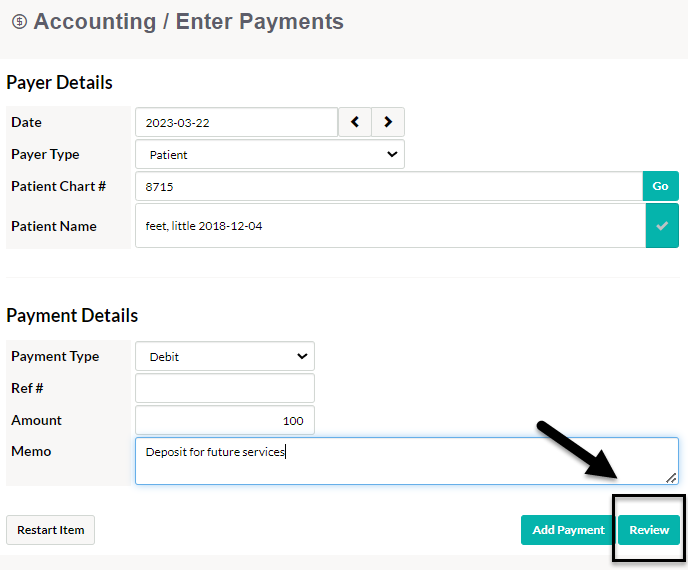 Step 3
Check the details are correct and then select Post Payments.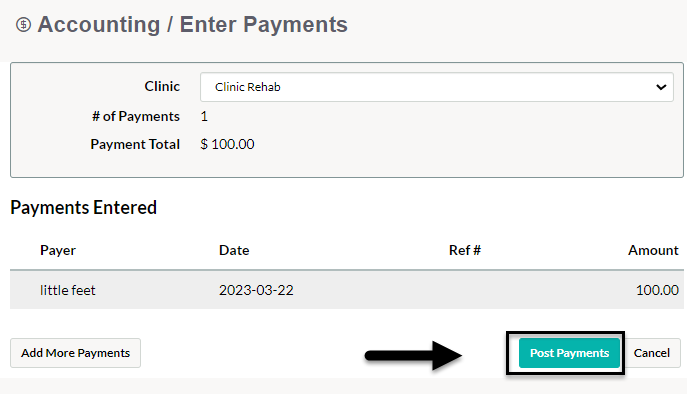 You will get a printable PDF of the transaction/s.

3. Adding a credit using a Gift Card
The credit will appear :
- Under the Patients Profile, History, Credits tab.
- Reports, Payments Received.
- Reports, Day End in the Total section.
- Also in combination with the Day End Report go to Reports, Credits. Set the date range to match the Day End Report to see Credits and Payment Type for that day to balance the report.
4. Using a gift card with a treatment plan (to countdown appointments) with a gift card
For a patient who has purchased a package of appointments for example a 10 pack of massages and you want to count them down, you can create a treatment plan that will show you hotlinks and countdown the appointments as you use them.
Open the patient profile and go to Treatment Plans.
In the top right corner of the page under "Create Plan" select "Blank Treatment Plan"

Enter the Name of the Plan.
Select the Practitioner name.
Select the Clinic name.
The Date the Treatments Started
Enter a Plan Description if you like and then Apply Changes.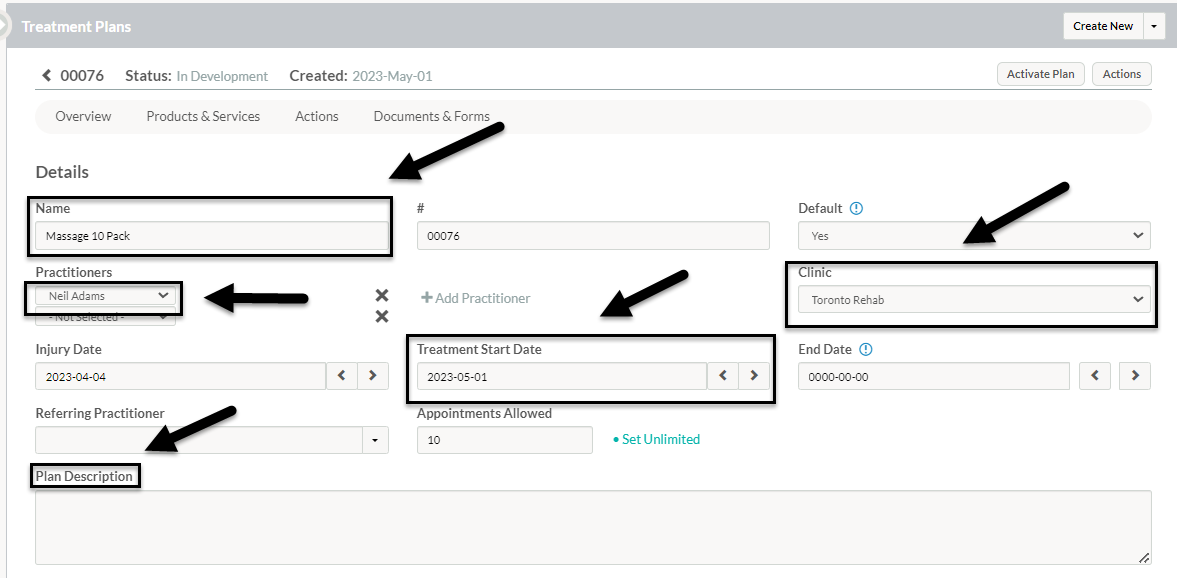 Then go to the Products & Services tab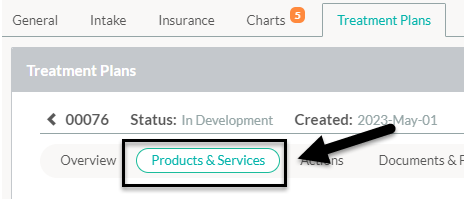 Select the Add Item and a line with fields to enter the service will appear.

Enter the service and quantity.

Then Apply Changes.

Select Activate Plan

Confirm you want to activate the plan by selecting Ok.

From the schedule you will now be able to book an appointment with this patient, the treatment plan will be defaulted and you will see hotlinks to enable you to countdown the appointments.
From the schedule select to book an appointment with this patient.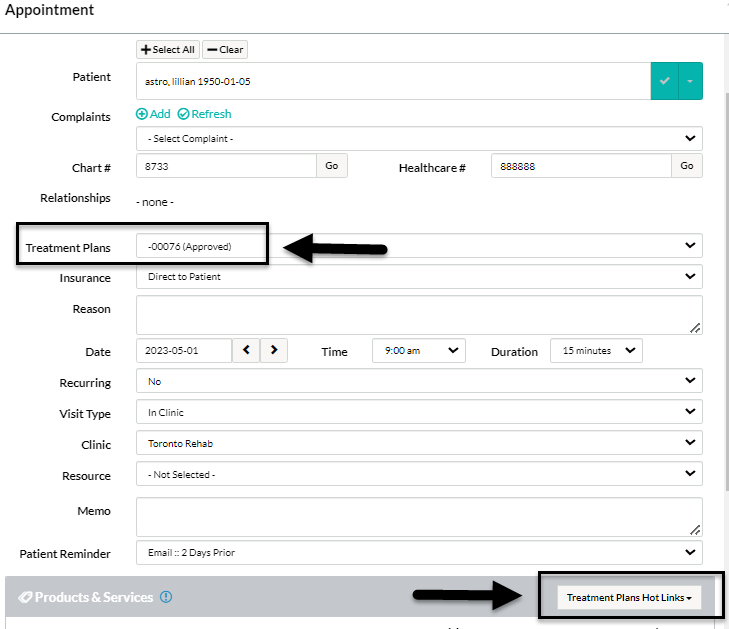 Click on Treatment Plan Hot Links.
The links show the name and the total of services available.

Each time you book an appointment it will count down.
5. Using the gift card with the patient look up, New Payment
From the patient look up select New Payment.

The Receive Payment popup will open.
Select the Clinic.
Enter the Payment Type.
Enter the amount of the deposit.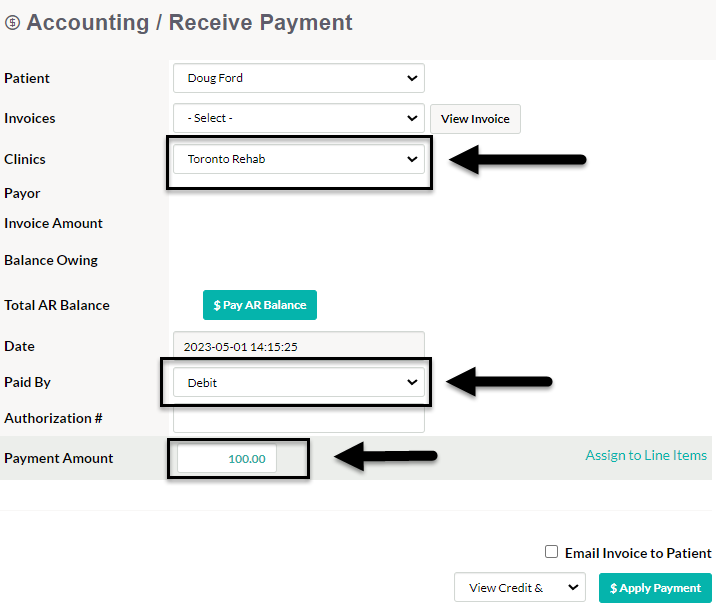 Then Select Apply Payment.
The credit will be on the patients account.
You can now create the treatment plan and count down the appointments.