Use the practitioner profile settings to attach the correct schedule for the practitioner inside of your Juvonno portal.
Overview
Practitioners Profile
1. Go to Settings > Practitioners
2. Open the Practitioner Profile, select "Can be booked in the Portal" Yes. Only system administrators can adjust this setting in a practitioners profile.
By selecting 'yes' the practitioner will now be able to be booked in the portal. Be sure to make sure the practitioner is linked to a clinic location that can also be booked in the portal, a schedule type, and services that can be booked in the portal.
Availability Tab
1. Click on the 'Availability Tab' inside of the practitioner's profile. Here you will be able to add the practitioner's availability by clicking on the 'Add' button.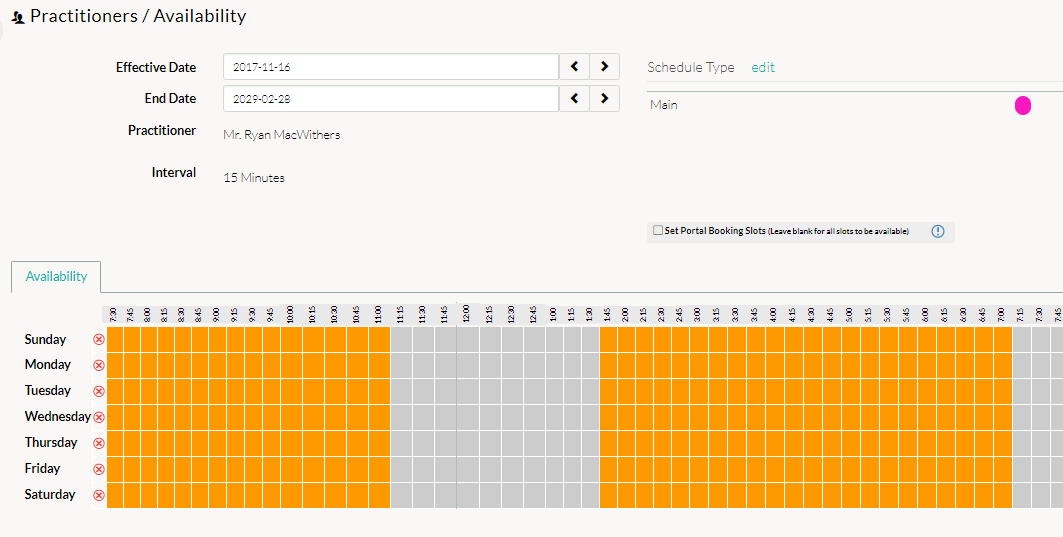 Select from (1) of (2) ways you can set up availability for the portal.
a. Standard Availability
Select the time frame on the schedule to allow appointments to be booked anytime when a patient calls the clinic and goes to the portal.
Example:

b. Set Portal Booking Slots
If you are using the "Set Portal Booking Slots" option you must select at least one time on every day the practitioner is available.
If you did not select any portal time slots on the example below for Friday, the practitioner would show available all day in the portal.
Example:

Notes
Be sure that the practitioner has an 'End Date' set to their availability. If there is no foreseen change in the practitioners availability it is best practice to set the 'End Date' to ten years from today. An 'End Date' must be listed for the availability to be properly displayed in the portal.