Select the chart templates you, the practitioner, and/or administrator wishes to use for charting.


You must select the charts each Practitioner and/or Administrator will be using. Typically Administrators don't chart patients however Admin users are able to select charts to view and create a chart if their User Type allows this option.
1. Go to Settings>Practitioners or Administrators.
2. Open the Employee profile>Chart tab.
3. If you have created custom chart templates they will appear at the top of the page under the Custom Form Editor Template section.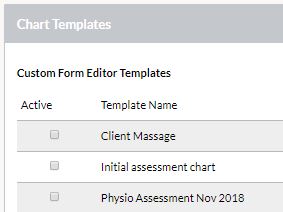 4. Check the boxes beside all Charts the employee will be using.
Activate the Chart Tab on the Schedule



a. While in the Practitioner profile locate the field that reads "Track Appointment Charting". Set this to Yes. A Chart tab will appear on your dashboard when you're logged in. You will be able to see previous charts and create a new chart from this page.
b. Locate the "Charting Start Date". Set the date you want to view patients who were seen in the clinic under the Chart tab until you remove them from the list after confirming you have charted on them.
TIPS:
Practitioners should log in using their Practitioner Username and Password to ensure the chart default name appears correctly and that you are able to Copy Last Chart Template.
If you don't see a chart in the patient profile you want to use make sure you have it checked off by opening your profile and going to the "Chart" tab. Check the box beside the chart and Save.