The Follow-up tab must be enabled in order for the tab to appear on your Home page dashboard.
Go to Settings > General > System > Modules > Modules Section > Follow-Up Calls.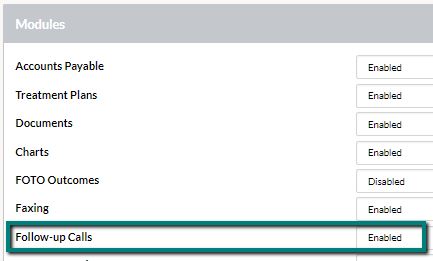 Set the field to Enabled then "Save".

Create Follow-up Categories
Navigate to Settings > Follow up Categories > New Category
You will get the following popup.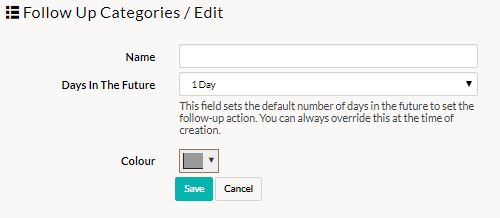 Name: Example - 6 month Follow Up or 1 year Follow Up.


Days In The Future: Select how many days into the future you want to view this Category under the Follow Up tab.  You can override this at the time of creation.


Colour: This is for your own reference identifying the tab.  Click the down arrow, select a colour from the color palette and Save.


Example: Green 6 month Follow Ups, Blue 1 year Follow Ups
Now when you go the Home Page, Follow up Tab you will have a tab with the category you just created.  The number icon indicates how many patients you have on that follow up list.