The Follow-up tab must be enabled in order for the tab to appear on your Home page dashboard.
Go to Settings > General > System > Modules > Modules Section > Follow-Up Calls.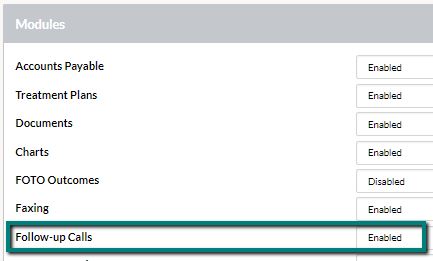 Set the field to Enabled then "Save".
Create Follow-up Categories
Navigate to Settings > Follow up Categories > New Category
You will get the following popup.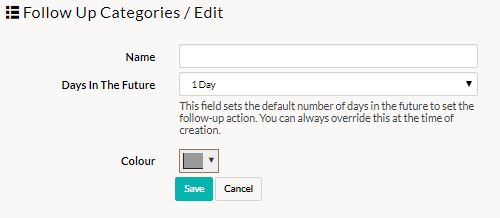 Name: Example - 6 month Follow Up or 1 year Follow Up.


Days In The Future: Select how many days into the future you want to view this Category under the Follow Up tab. You can override this at the time of creation.


Colour: This is for your own reference identifying the tab. Click the down arrow, select a colour from the color palette and Save.


Example: Green 6 month Follow Ups, Blue 1 year Follow Ups
Now when you go the Home Page, Follow up Tab you will have a tab with the category you just created. The number icon indicates how many patients you have on that follow up list.
Staff Profiles - Practitioner Access tab
You must have the Staff profile, Practitioner Access tab set to view the staff you want to see Add Follow ups for.
Example: If you want to create Followups for Administrators in the Practitioner Access tab, under the Primary Group Access "Add" the Administrator Group.
The Administrator profile must have the "Administrator" staff group set in their General Tab on their Profile.