We continue our 2023 unofficial theme of "Out with the old, in with the new" with Juvonno's latest system update. Without further adieu, let's dive in and show you what's new to Juvonno!


What's New ✨
1. Treatment Plan Revamp
We've made creating, tracking, and completing treatment plans easier than ever with the new layout and simplified Tracking Ladders.

HCAI users, you can now create OCF forms using pre-built treatment templates. When creating a new OCF, only the required fields will populate eliminating any extra guesswork. Plus, we've added a brand-new Form Validation feature that will flag any errors or missed fields prior to submitting to help eliminate submission errors.

Create a Treatment Plan from right inside a patient's profile. Try it out for yourself, we hope you love it!
2. Out-of-Office Text Responder
Get back to your patients, even when you're not around. The Out-of-Office Text Responder allows you to send a default text response to any patients that text your clinic outside of office hours.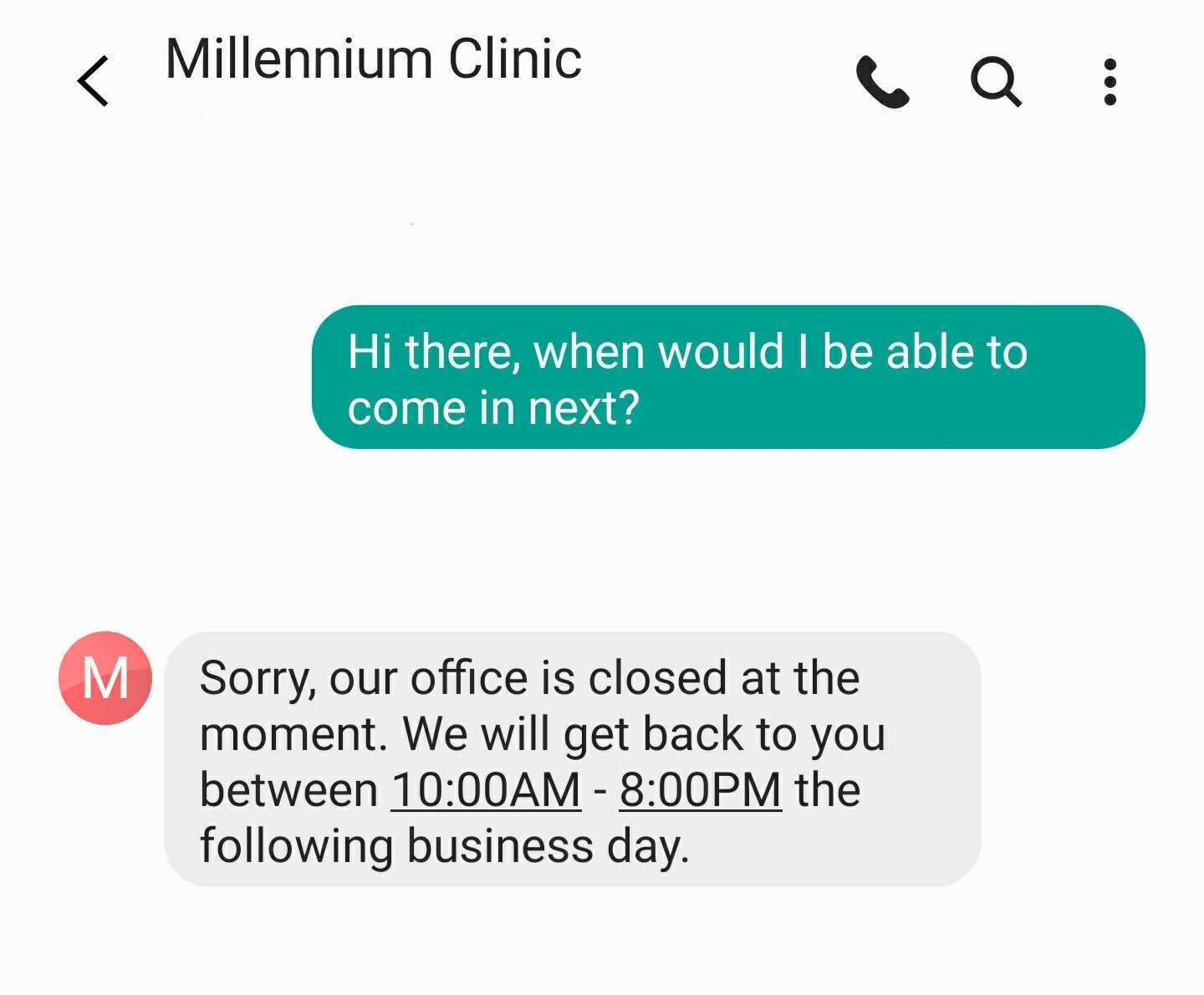 Learn How to Setup and Edit the Out-of-Office Text Responder
3. Invoice Refund
Refunds just got easier! Refund a payment, restore inventory, and mark an invoice as refunded in just a few clicks with the new Invoice Refund feature. Pretty convenient right?


Learn How to Refund an Invoice
4. Auto-Phrase Categories for Charting
Keep your Auto-Phrases for charting organized with the new Auto-Phrase Categories feature. This feature allows you to create categories for your commonly used phrases making them easier to find and use while charting!
Learn How to Create Auto-Phrase Categories
Other Updates
⚡️

Staff User Settings
User Type:

Added the ability to Grant or Restrict access to creating STAT holidays by a user type in the

Schedule

section of the

Settings
User Type:

Updated/fixed the ability to Grant or Restrict access to the Two-Way Texting module by a user type in the

Communications

section of the

Settings
Scheduling
Multi-day Appointment Booking: Added a setting that allows you to book appointments that span multiple days
Default Visit Type in Appointment Booking:

You are now able to change the

Default Visit Type

for

Appointment Bookings (i.e. Telehealth, In-clinic, etc.)

in the

General

settings under

Scheduling

Patient Management
Star Vision Optical Lab Order Form: New form now available in Juvonno
Patient Lookup: Added plan numbers to the Patient Lookup builder's insurance section and fixed an issue where phone numbers won't display if they include a parenthesis
Merged Patient Profiles: When merging a patient profile, the existing Two-Way Texts will also be assigned to the merged profile
Patient Search Default Clinic:

Added a

Default Clinic

column that lists the patient's default clinic on the Patient Search page
Patient Profile Header: Default Clinic field has been added to the patient profile header
Patient Profile DOB: Date of Birth date selection now defaults to show the last 100 years and won't allow future dates to be selected
Billing
Blue Cross: Added the latest version of the Blue Cross form as a fillable pdf to our form library
Loyalty Points Expiry Setting: You can now set an Expiry Date or Expiry Time (# of Days) for Loyalty Points
MPI Consolidated Invoice (batch): The batch PDF will now auto-populate the dates and the Chiropractors' digital signature
WCB Consolidated Invoice (batch): The batch PDF will now auto-populate Appointment Date(s), Insurance's Injury Date and the Initial Treatment Date
WSIB FAF Form: Form will now auto-populate Default Phone # from the Patient Profile
Communication
JComm: Added a 2 Years parameter under the Last Appointment trigger to filter your patient list
Two-Way Texting: Added settings to include Default Clinic and Patient Group (both defaulted to disabled). When enabled it will show the default clinic and group under the patient's name in the Two-Way texting module
Two-Way Text Threads: By default, when opening a Two-Way Text thread you will now be taken to the most recent message
Invoice Email Template: Updated the email address attached to the Invoice Email template, to pull from the clinic's information rather than the company's
Patient Portal
Patient Portal Intake Form Status: Intake forms now remain editable on the Patient Portal until marked Completed
Patient Portal Invoices: Patients can now select multiple invoices on the Patient Portal to pay at the same time using Stripe
Patient Portal Practitioner Gallery View: Added a setting for the Practitioner Gallery (disabled by default) to show the practitioners in a card format instead of just in the drop-down menu
Patient Portal French Language Translation: Updated a few translations to reference the correct wording in French
Patient Portal Activation Header Links: When a patient is sent their Portal Access Email, the Login and Book Appointment links are hidden to avoid the creation of a second profile
Restrict Clinic Selection to Default Clinic: Patients can now be restricted from booking appointments at any clinic other than the default clinic assigned in their Patient Profile. Other locations will be hidden from view.
Patient Portal Phone Format with Country Code: Added the option to include a mandatory Country Code drop-down menu when entering a phone number during signup
Patient Portal Profile Display Subscription Preferences:

Added the option to show or hide

Subscription Preferences (i.e. clinic emails)

in the

Profile

on the

Patient Portal

Reports
Purchase Order Report

: Added an Export to Excel Report option on the Purchase Order page to populate the results found on the PO search
Onhands Report: Added a Min Onhand filter to the Onhands Report that when enabled will only populate results of products that have equal to or lower than the set minimum
Patient Retention Report: Added a Patient Rebook % and Patient Rebook (Same Practitioner) % to the Patient Retention Report
Patient Insights: Added a Deceased Filter to Patient Insights Report (checkbox, yes or no)
Login History Report: Added a user filter that can be used to filter the Login History Report to only include a specific user's login history
Comprehensive Sales Report: Added a Discount column to the Detailed Excel version of the report
Day End Report: Removed Credits and Gift Cards from the Payments Received section on the Day End Report and put it below in its own section called Gift Cards & Credits Redeemed
Day End Report: Added a section to the report to view Payment Gateway Subtotals
Purchase Order - Excel Report: Added a Summary tab with only invoice totals, vendor subtotal and grand totals
Advanced Clinic Settings
HCAI Treatment Plan Templates: Added HCAI-specific treatment plan templates, so that the existing templates can be assigned as either 'OCF18' or 'OCF23' template
HCAI Dashboard User Type Access: Added a user type toggle to allow access to the HCAI dashboard (previously only accessible by admins)

Surgery Tracker:

Added the following items to the Surgery Tracker modal: a) Surgical Assistant (dropdown to select 1 or more existing practitioners) b) Anesthesia Type dropdown menu c) Delay Code d) Dictation (Yes/No) checkbox
Ontario Lab Requisition Form: Updated the existing form to be auto-filled based on certain Patient Profile and Practitioner Fields
Chart Note Import:

The Chart Note import has improved speed, and the ability to handle larger data sets and see progress as its importing

Document Import: When a user uploads a document, Juvonno will now read the filename and auto-populate the document's name to match
Bug Fixes & Polishes
🔧
Quick Menu is now accessible when using a mobile device

Outstanding Invoices now populate properly inside the Patient Portal

Adjusted the text of the portal's login page from 'username' to Username / Email

Fixed an issue with certain messages not being able to be marked as read or unread

Fixed an issue with appointment booking prompting the user that the patient is being booked at the wrong clinic, when they have no default clinic set

Fixed an issue where the reminder options on Appointment Booking were hidden from view when searching and selecting a patient right from the patient search on the apt booking window

Recurring invoices being manually created are now assigned a unique invoice number

New Patient Portal users are now required to click the recaptcha check box to sign up
Special characters now display correctly within the Two-Way Texting thread
Patient Statement PDF now calculates the total of the Amount column

Max visit (appointment) count rules set with patient insurance profiles now prevent or warn the user that the max assigned to the insurance is met

When patients reschedule appointments on the portal, they now display correctly on the admin side

Removed error message that appeared when cancelling appointments from the patient lookup

Invoice Search's Third Party filter listing no longer includes deleted/inactivated third-party companies

You can now delete individual instances within a recurring away

Patient Summary Invoice now shows the correct secondary practitioner per invoice
A limit of 200 of the most recent 200 charts has been set to correct Patient Profile loading issues
Practitioner credentials are now hidden on the practitioner gallery and when a practitioner is selected when the setting is set as Disabled

Issue where the schedule wasn't auto-refreshing after rescheduling an appointment has been fixed

Issue where patients couldn't be searched through the magnifying glass in the appointment screen, has been fixed.

When a service is performed anywhere other than a registered facility, that facility type now displays

Issue where the appointment import app wasn't setting an end date to appointments has been fixed

Comprehensive Sales Report now display the correct value in the Discounts field

Added a loading screen when a new patient profile is saved, which prevents the creation of duplicate profiles

Fixed an issue where making changes on any custom fields of the patient profile wasn't saving the fields data when applying changes

When the user edits an appointment's details and changes a product that's bundled with others, where one or more of them have taxes applied, the taxes show up correctly now

Error that appeared when sending the Welcome Packet without an intake form has been fixed
During Invoice Search, the Email option now appears by default

Recaptcha function on portal signup has been updated

Error of not pulling the contact information when generating a letter and using the Lawyer tag has been fixed

Issues with Moneris when using the Payment Request email have been fixed