1. System
a. Go to Settings>General>System>Accounting.
b. Scroll to the bottom of the page to the Clinic Health Care Numbers section.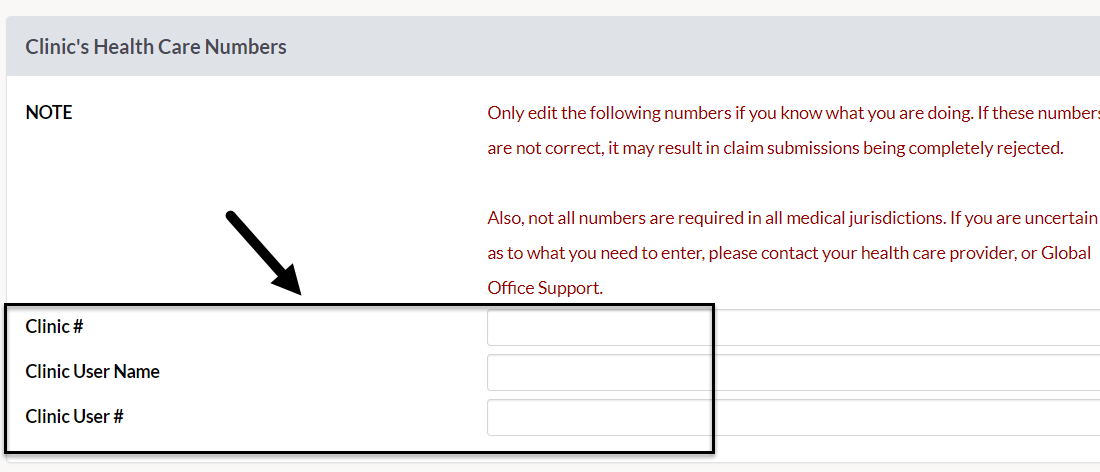 NOTE:
If you have 1 or more practitioners in your clinic that will be paid directly from OHIP each practitioner only requires a Practitioner #.
If you have more than 1 practitioner in your clinic and OHIP will be paying the clinic and you will be paying your Practitioners then each Practitioner requires their own Practitioner Billing # and the clinic needs a Group # as well.
Clinic User Name field: Enter your clinic name that is registered with OHIP.
Clinic User # field: This is the same number as the Clinic Number Field above with 4 digits. If you are a sole doctor you will enter 4 zeros in this field if you do not have a Group #.
c. Scroll to the bottom of the page and Save.
2. Import Tariffs/Fee Codes
Go to Accounting. Under the OHIP section select Import Tariff Fees. Upload the OHIP tariff file. Select Send File.
The uploaded Tariffs will appear listed under Settings, Products & Services section, Tariffs option.
3. Module Settings
Go to Accounting. Under the OHIP section select Module Settings.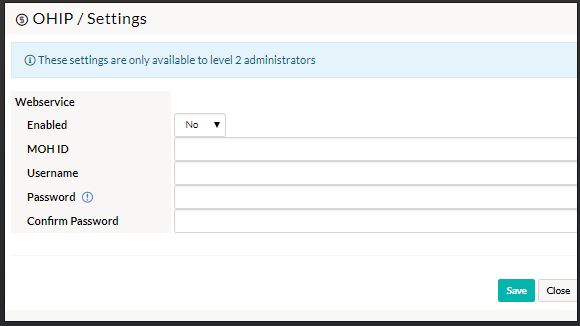 Webservice field: Must set to Yes.
MOH ID field: Is your clinic number, this is the same number that appears under Settings>General>System>Accounting>Clinic Health Care Numbers it is a 5 digit #.
Username: This is the username registered with OHIP.
Password: Enter your OHIP password.
Practitioenr Profile
The Practitioner Billing number will be entered in the Practitioner field.

The Suffix field must be filled in.